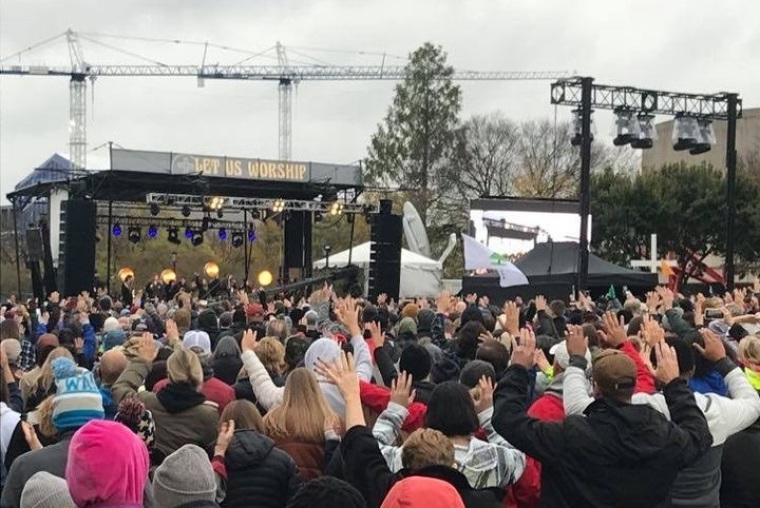 Participants who drove to or flew into the nation's capital for the event spoke of the importance of the times and the dire need to pray and worship given the tumultuous political climate.
Gail Hawkins, who co-pastors New Life City church in Albuquerque, New Mexico, with her husband, Alan, said in an interview with The Christian Post that she had been watching what Feucht had been doing and felt compelled to make the trip to D.C.
"Something struck a chord in me that I needed to be here this weekend," she said, "so we just followed the lead of God and we came."
"And the timing of the event, we just know that God's at work. And we feel like we're in the west [part of the country] where we're separated from the seat of government but we're not separated because we're all on one accord and we're all praying and seeking passionately the hand of God in this nation."
"And if felt like 'for such a time as this' that we had to be here," she said, referencing Mordecai's words to Queen Esther in the book of Esther.
Standing in a throng of worshipers singing the popular anthem "Way Maker" by Nigerian artist Sinach, Rhoda Mehl from Rosemount, Minnesota, told CP she felt that the spiritual significance was "breaking the heavy yoke of the heavy [spiritual] chains that were binding and suffocating the nation."
"We get to come and sing outside and praise the Lord from the bottom of our hearts. That is what our nation was founded on — liberty, on freedom … Our worship is our weapon.
"We're here standing 'peacefully protesting' by praising God, believing that this is His war, that this is His battle. And He will win."
She came to Washington because she was disturbed by how churches were being closed and their voices silenced.
"The Church is confused about whose authority they need to respect and respond to," she said.
Click here to read more.
SOURCE: Christian Post, Brandon Showalter