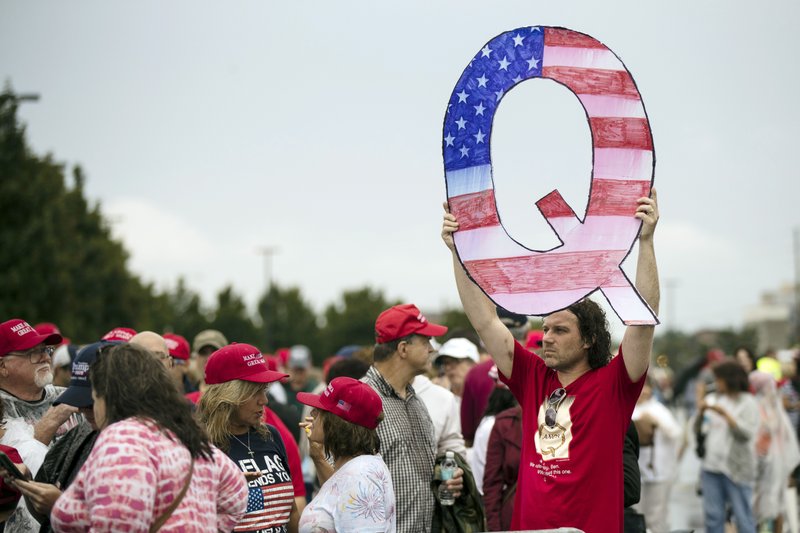 For nearly three years, QAnon followers have been feverishly deciphering thousands of cryptic clues and predictions posted online by the shadowy persona of "Q" at the center of a metastasizing movement that experts say is the first far-right extremist conspiracy theory in the modern era to penetrate mainstream American culture and Washington politics.
Yet, a consensus of leading researchers and critics who study and debunk QAnon disinformation told ABC News that a key to identifying "Q" has been hiding in plain sight for years — on a pig farm south of Manila in the Philippines — at least until recently.
The rapid online growth of QAnon since early spring — and a series of trolling incidents that surged through Twitter, Facebook, Instagram and TikTok before those platforms began banning QAnon groups and hashtags this summer — has sharpened focus on the forces behind this alternative reality game-like phenomenon.
At least 24 candidates who have "endorsed or given credence to the conspiracy theory or promoted QAnon content" — 22 Republicans and two independents — have secured a spot on the ballot in the 2020 congressional elections, according to the media watchdog Media Matters, though it remains unclear how many could actually win their races. Last month, one candidate who pollsters say is almost certain to win her heavily GOP district in Georgia, Marjorie Taylor Greene, appeared to rescind her previous support for QAnon, telling Fox News that "once I started finding misinformation, I decided that I would choose another path."
People who believe in QAnon conspiracies have also been associated with a number of strange and disconcerting real-life incidents in recent years, including a man using an armored truck to block traffic on the Hoover Dam in 2018, and another man accused of fatally shooting alleged New York Gambino mob boss Francesco "Franky Boy" Cali last year because, according to court records, he believed Cali that was part of the "deep state." In June, a New York judge found the suspect mentally unfit for trial and transferred to a mental health facility for further evaluation, the Staten Island Advance reported.
QAnon clothing and posters have turned up regularly at President Donald Trump's campaign rallies since at least 2018.
Trump, his children and several White House staffers have repeatedly retweeted QAnon-linked content online, according to researchers who track the spread of QAnon. As of late August, Trump alone had amplified social media accounts promoting QAnon content at least 216 times, Media Matters reported.
Last month, Trump made his most extensive comments to date when asked about QAnon during a press briefing at the White House.
"Well I don't know much about the movement, other than I understand they like me very much — which I appreciate," he said, adding, "I've heard these are people that love our country."
A reporter pressed him about "this belief that you are secretly saving the world from this satanic cult of pedophiles and cannibals — does that sound like something you are behind or a believer in?"
"Well, I haven't … heard that," Trump replied. "But is that supposed to be a bad thing or a good thing? I mean, you know, if I can help save the world from problems, I'm willing to do it. I'm willing to put myself out there."
Puzzles, prophesies and 'Q drops'
In its broadest outlines, the QAnon conspiracy theory rests on the baseless belief that Trump is secretly battling a global network of billionaire pedophiles, devil-worshipping Democrats and baby-eating Hollywood stars and their "deep state" counterparts embedded in the U.S. federal government's sprawling bureaucracy.
Numerous top Democrats, party supporters, Hollywood stars and other Trump critics have been dragged into QAnon's web and slandered with false and heinous allegations. Last week, Trump fanned these flames when he retweeted a video clip of Democratic presidential candidate Joe Biden that falsely suggested the former U.S. vice president is a pedophile.
Party affiliation is no shield. After Vice President Mike Pence told CBS News on Aug. 21 that he "doesn't know anything" about QAnon but "dismisses it out of hand," he was accused by many QAnon adherents of being a "deep state" agent. Earlier this month, Pence canceled a campaign fundraiser after an Associated Press (AP) report revealed that the couple hosting the event had publicly expressed support for QAnon.
QAnon's messaging is laced with religious allegory, prophesies, puzzle-solving and an emboldening sense of belonging to the right side of an epic battle of good versus evil.
The user "Q Clearance Patriot," known to followers as "Q," purports to be a high-level military intelligence official who leaves clues about the secret battle behind the scenes with "Q drops" — messages first posted in late 2017 on the anonymous imageboard 4chan, and later on 8chan and its successor, 8kun.
The "chans," as they are known — where the messages are posted — are low-trafficked anonymous imageboards populated largely with hate speech, pornography and rhetorical violence.
Instead of registering users, the sites issue users a tripcode — a unique sequence of code that allows a user's identity to be recognized without storing personal data, a practice that researchers say protects free speech but fuels the spread of disinformation.
It's "Q"'s unique tripcode that allows followers to verify the messages are coming from the same user account — even as "Q" has migrated from one imageboard to the next.
The "Q drops" are then swiftly interpreted by so-called "Q influencers," archived in searchable databases and disseminated to a much wider audience on aggregator websites like QMap — which went offline earlier this month after the site's developer was identified as an IT expert living in New Jersey.
Click here to read more.
SOURCE: ABC News, Chris Francescani