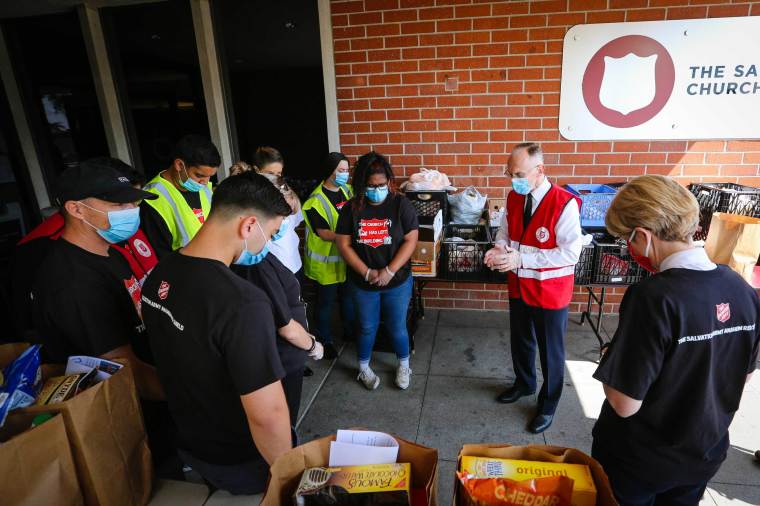 Facing a possible drop of up to 50% in fundraising from its iconic Red Kettle Campaign and a 155% increase in demand for its social services, The Salvation Army is launching its annual holiday fundraising campaign early for the first time in 130 years as a result of the COVID-19 pandemic.
"The pandemic has brought about just incredible crises for families all across America. Many of the families we serve, some of them have lost their jobs, some of them have been impacted and have had COVID in their own families. And when you lose income and you're sick and you can't afford basic necessities for your family like food, rent, utilities, it puts you at a crisis that you've never experienced before," Dale Bannon, The Salvation Army's national community relations and development secretary, told The Christian Post Tuesday.
"We have had waitresses, I think of one in Indiana … She said, 'I'm a single mom. I have two kids and I've been doing very well until I was laid off from my job.' She said, 'This is the first time I've had to ask for help and I just need food for my family.' That story is amplified by the thousands, … millions that we've seen all across our country."
Since March, America's largest social services organization has provided more than 100 million meals, 1.5 million nights of safe shelter, and emotional and spiritual support to over 800,000 people through 7,600 centers of operation across the country.
As they look forward to Christmas, The Salvation Army is now being forced to get creative in its fundraising work as the pandemic threatens giving through the Red Kettle Campaign, which raised $126 million through about 30,000 red kettles last year alone.
With many retailers shuttering and studies showing more consumers moving away from cash and coins toward e-commerce, The Salvation Army is hoping consumers will help them recoup the anticipated shortfall through a variety of electronic means so they can help an estimated 7 million at-risk people this Christmas.
On Sunday, the Christian organization, whose founders sought to bring salvation to the poor, destitute and hungry, released its "Help Rescue Christmas" campaign video to the soundtrack of two-time Grammy Award-winning and multi-platinum selling artist Lauren Daigle's hit "Rescue," which was described as the anthem for the campaign.
"We're anticipating just with the shortage of cash, there's also less retail stores than there were last year, we've got to do something and do it early to communicate to the American public. Help us meet the needs of people this Christmas. Our Christmas assistance program provides food, we also provide toys for parents who are struggling between maybe paying the rent or keeping their lights on," Bannon said.