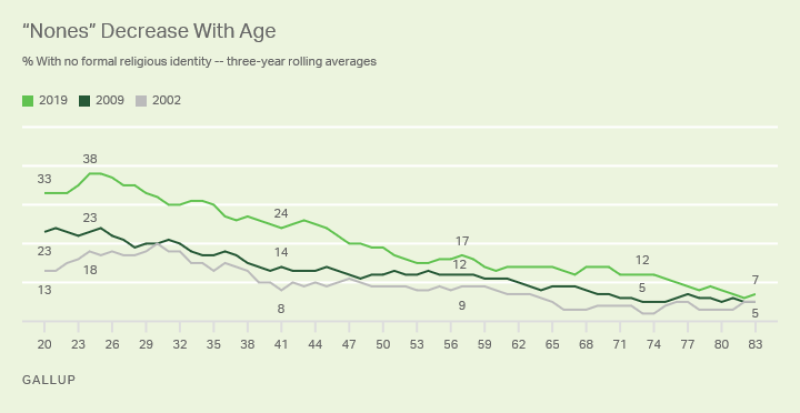 Scientific American reported in 2017 that "since 1990, the fraction of Americans with no religious affiliation has nearly tripled, from about 8 percent to 22 percent." The magazine predicted that "by 2020, there will be more of these 'nones' than Catholics, and by 2035, they will outnumber Protestants."
Well, maybe or maybe not. There is a lot going on to counter the conclusion that atheism soon will be America's dominant "faith."
A 2020 Pew Forum survey supports the rise of the "nones." Twenty-six percent of Americans identify with no denomination. That's higher than the Catholic Church, the single largest denomination. But it's still dwarfed by the more than 65 percent claiming a Christian affiliation, albeit a drop of 12 percentage points from 10 years ago.
Currently, 43 percent of adults identify with Protestantism (down from 51 percent in 2009); 20 percent with Catholicism (down from 23% in 2009).
The Real Story
"Mainstream" Protestant denominations have been losing adherents for decades and failing to attract new ones. The same goes for Catholics, whose church has been rocked by a long-term sex abuse scandal. The slowness of their decline may be partly due to the arrival of millions of immigrants from Mexico and Central America, who tend to be Catholic.
In any case, people who used to reflexively cite the faith of their childhoods are now being more honest in surveys.
"The nones are simply those who until recently would have identified with a Christian denomination just because that's what their family has always been," Glenn Stanton of Focus on the Family summarizes in a Federalist article. "But their pastors know they are just CEO Christians (Christmas and Easter Only). Beyond that, it's crickets attendance-wise."