Question:  Why are so many of America's young people apparently beguiled into despising America's founding and heritage?
I have had scores of Americans ask me that question in the last few months. My inquisitors have been baffled and perplexed as to why so many of our twenty and thirty- something citizens seem to so readily jettison what my questioners cherish as rich, meaningful, and critically important — an American heritage that has fostered and promoted individual human dignity ("All men are created equal") with divinely imparted inherent rights ("and endowed by their Creator with certain unalienable rights" including "life, liberty and the pursuit of happiness").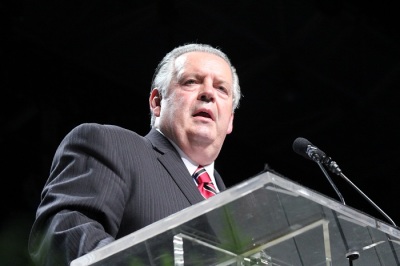 This priceless heritage, coupled with the Puritan ideal of being "a city on a hill," lighting the way for the Old World to have a fresh, new birth of freedom, has been cherished and passed on from generation to generation for two and a half centuries, even as that ideal has been secularized down through the years, from Lincoln's "last, best hope of mankind," Wilson's "war to end all wars" and League of Nations' ideals, and FDR's "arsenal of democracy" and "Four Freedoms." And, of course, this American "exceptionalism" suffused JFK's inaugural address:
. . . the rights of man come not from the generosity of the state, but from the hand of God. . . . We are the heirs of that first revolution. Let the word go forth from this time and place, to friend and foe alike, that the torch has been passed to a new generation of Americans — born in this century, tempered by war, disciplined by a hard and bitter peace, proud of our ancient heritage, and unwilling to witness or permit the slow undoing of those human rights to which this nation has always been committed, and to which we are committed today at home and around the world.

Let every nation know, whether it wishes us well or ill, that we shall pay any price, bear any burden, meet any hardship, support any friend, oppose any foe to assure the survival and the success of liberty.

This much we pledge — and more.
Many Americans, including myself, consider those words perhaps the most eloquent summary of America's "exceptionalism" ever uttered. It is a doctrine not of rights and privileges, but rather sacrifice and service. "To whom much is given, much is required" (Luke 12:48).
It was this "exceptionalism" that caused a famous immigrant citizen — a "voluntary" American, Henry Kissenger — to explain that America was a country like any other, with "interests" and "spheres of influence," but that it was also a "cause," and the cause was "freedom." When people yearn and strive for freedom, America is obligated to help them the same way the French helped us win our War of Independence.
A majority of Americans have believed this in the past, and at least a plurality of Americans still does. This is why older Americans, and many young ones as well, have been aghast at scores of rioters tearing down statues, not just of Confederate leaders, but of Washington and Jefferson and others.
As I was writing this column, I was reminded of a deeply moving experience I had while I was speaking at a conference on Freedom in Romania, just after they had overthrown the horrifically brutal Communist dictator Ceausescu in 1989. The conference was on how Romania could now install a free and democratically self-governing society with deep respect for human rights — "a government of the people, by the people, for the people."
I was in a private, one-to-one meeting with the Romanian equivalent of the U.S. Attorney General. He pulled a book off the shelf in his office, opened it up, and started reading in English, "When in the course of human events . . ." — the American Declaration of Independence. After he had read the part, "All men are created equal," he looked up with tears in his eyes and said, "We want what you have."
Click here to read more.
SOURCE: Christian Post, Richard D. Land