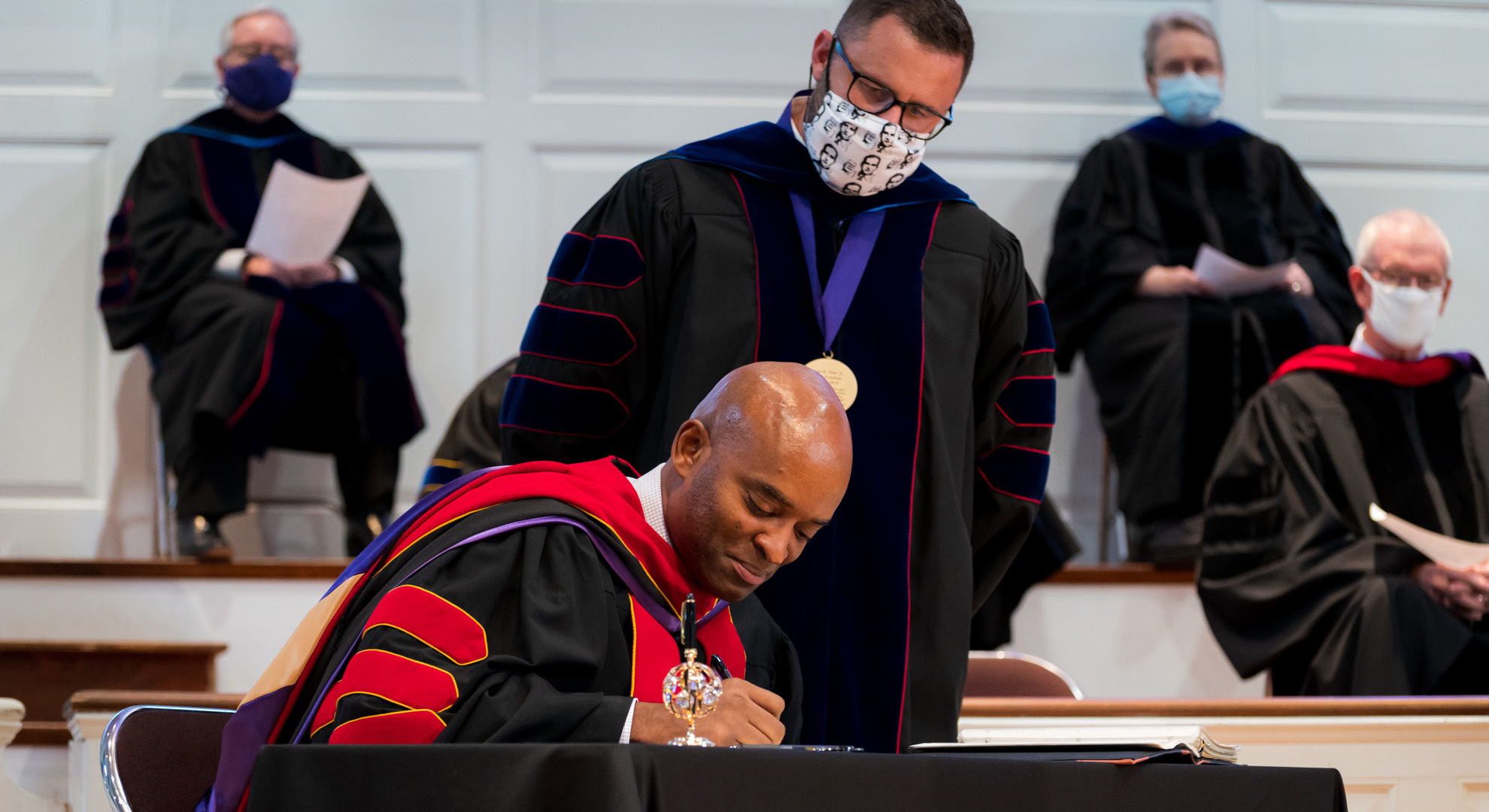 New Orleans Baptist Theological Seminary President Jamie Dew posed a question to the audience gathered Sept. 3 for convocation, the official start of the academic year. How can believers follow God's call and fulfill His mission in a world torn apart by hostility and division?
The service was delayed one week due to closings in anticipation of Tropical Storm Marco and Hurricane Laura. The limited number of in-person participants wore masks and practiced social distancing in Leavell Chapel, observing COVID-19 guidelines. Others watched from overflow rooms and via the Livestream.
Before posing his question, Dew reminded the audience of the seminary's mission to prepare servants to walk with Christ, proclaim His truth, and fulfill His mission.
"How do we do that today?" Dew asked. "In a context of overwhelming hostility, division, and turmoil, how do we live our lives in ways that please the Father and execute that mission?"
The task God gives to believers is neither easy nor difficult, but instead "impossible if left to ourselves," Dew said, adding that the mission can only be accomplished when believers fully depend on Christ.
Dew explained further that while hostility to the Gospel is present and may be growing, today's generation is not the first to face it.
"Don't ever think that it's worse for us than for generations gone by," Dew said. "Don't ever think that difficulties and the seeming impossibilities that we face today are somehow categorically different from what other believers throughout the centuries have experienced.
"Yet while [other generations] faced such things," Dew explained, "somehow, in God's providence, He advanced His kingdom through their lives."
Drawing from the disciples' example set in Acts 4, Dew provided five points of guidance for believers answering God's call today.
First, the disciples faced "severe" opposition, yet responded with respect and grace, Dew noted, and urged listeners to remember that speaking truth and grace are "not antithetical."
"You may have to say hard things, but you yourself can be gracious," Dew said. "This world stands desperately in need of an example of how to conduct our lives in a way that is genuinely and authentically Christian. Let's be that."
As the disciples did, believers must also rely on the Holy Spirit. Dew also noted that Jesus Himself did not begin his earthly ministry until the Spirit of God descended upon Him.
Click here to read more.
Source: Baptist Press