This fall, there have been several internet memes claiming there have been much larger declines in the incidence of abortion during Democratic presidential administrations than during Republican presidential administrations. Their implied message is that "pro-choice" Democratic presidents have been far more effective at stopping abortion than pro-life Republican presidents.  However, a close analysis of reliable abortion data shows that this claim does not withstand serious scrutiny.
The internet memes purportedly showing large abortion declines during Democratic presidencies are misleading for three reasons.
1. Nearly all of them neglect to mention that the U.S. abortion rate rose sharply during the presidential administration of Democrat Jimmy Carter.
2. Some of these memes use abortion data from the Centers for Disease Control (CDC). The fact that California stopped reporting its abortion data to the CDC in 1997 explains why some memes report a very large decline in abortion numbers during the Clinton administration.
An analysis of abortion rate data from the Guttmacher Institute tells a much different story. Unlike the CDC, the Guttmacher Institute consistently reports abortion rate data from all 50 states. Additionally, since Guttmacher conducts a survey of abortion facilities, their abortion data is considered more reliable than CDC data. As the table below indicates, Guttmacher Institute data demonstrates that there has been a durable, long-term decline in the U.S. abortion rate that has persisted through every presidential administration since 1980.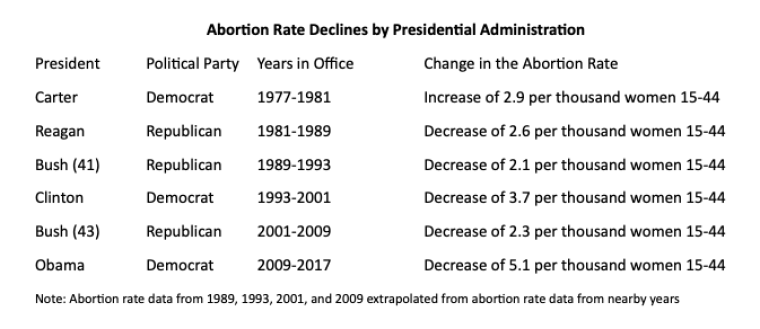 Abortion Rate Declines by Presidential Administration
Now it is true, there were larger abortion rate declines during the presidential administrations of Democrats Bill Clinton and Barack Obama than the administrations of Ronald Reagan, George H.W. Bush, and George W. Bush. However, these abortion rate declines had nothing to do with the actions of either President Clinton or President Obama.
Click here to read more.
SOURCE: Christian Post, Michael J. New