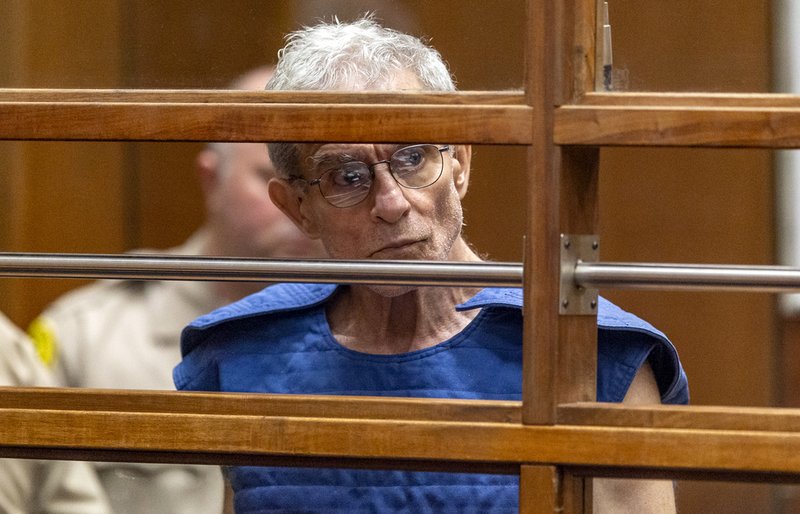 A judge has denied shamed Democratic donor Ed Buck's request to be released on Friday, claiming he posed a danger to the community.
Buck is charged with nine federal counts, including giving drugs to 26-year-old Gemmel Moore – one of two black men who died of an overdose at Buck's West Hollywood home.
U.S. Magistrate Judge Rozella A. Oliver said that the conditions presented by Buck's attorney were 'insufficient' to ensure that the embattled donor would show at trial, KCAL reports.
Oliver also said that Buck's legal team failed to show how the medical staff at the Metropolitan Detention Center were incapable of handling their client's medical needs, after the defense expressed concern about Buck getting COVID-19.
She added that he did not appear to have any medical conditions that seemed to put him at risk for catching the virus at 66 years of age.
'Ed Buck was asking to be confined to his home,' Jasmyne Cannick, who has advocated for the victims, shared.
'Home is where his crimes were committed. Home is where his drugs were delivered to. Home is where he was injecting people and sexually assaulting people. Home is where two Black men died. So we're excited and happy that the judge saw fit to deny his bail.'
On Friday, at a bail reconsideration hearing, Buck's defense attorneys argued that Buck, 66, is at high-risk of contracting coronavirus if he remains locked up.
According to court papers obtained by City News Service, Buck said he was willing to pay a $400,000 signature bond as well as be electronically monitored and confined to his home.
The attorneys also argued that Buck suffers from gum disease and needs specialized cardiac care that the criminal justice system is unable to provide.
Federal prosecutors were against his release, claiming Buck is a flight risk and he represents a potential danger to the public.
Since 2017, two African-American men have been found dead from drug overdoses in Buck's West Hollywood home.
Prosecutors allege Buck would bring the black men to his home and then inject them with crystal methamphetamine for sexual gratification.
In July 2017, 26-year-old Gemmel Moore, who was working as an escort, was found dead in Buck's apartment, lying naked on a mattress in the living room.
Just a year-and-a-half later, in January 2019, a second man, 55-year-old Timothy Michael Dean, was found dead in Buck's home.
Click here to read more.
SOURCE: Daily Mail, Mary Kekatos and Matthew Wright