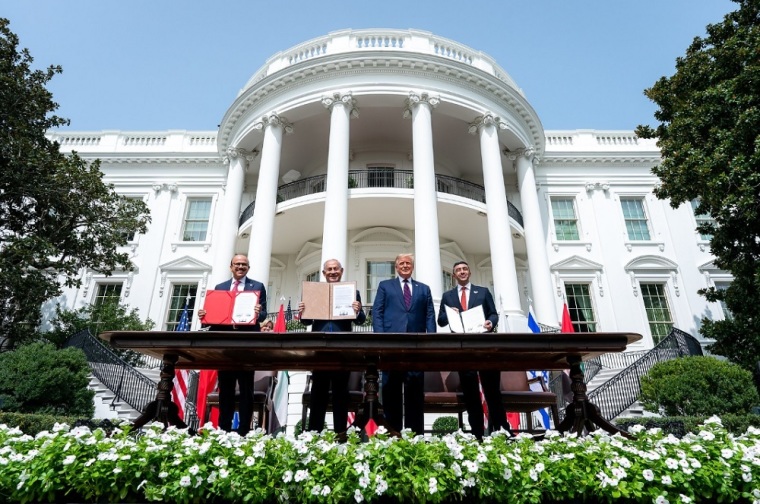 Many evangelical leaders have praised the signing of the historic "Abraham Accords" between Israel, the United Arab Emirates and Bahrain at the White House on Tuesday, marking the third and fourth Arab nations stating intentions to establish full diplomatic relations with Israel.
The signing ceremony on the South Lawn formalized announcements made previously indicating intent by the two country's to normalize relations with Israel.
The agreement signed between Israel and UAE, first announced last month, is described by the White House as "a treaty of peace, diplomatic relations, and full normalization."
Meanwhile, the agreement between Israel and Bahrain to establish full diplomatic relations is only described as a declaration of intent to make peace since the agreement between the countries was announced last week and not enough time has elapsed to create a formal agreement.
A third document signed by leaders of the U.S., Israel, Bahrain and UAE is titled the "Abraham Accords," a reference to Abraham, the patriarch of Judaism, Christianity and Islam.
The agreements mark the first time in two decades that Israel has entered into a peace agreement with another Middle Eastern country, with the last being Jordan in 1994.
President Donald Trump said following the signing that the agreements "mark the dawn of a new Middle East" amid "decades of division and conflict." He said the signing "sets history on a new course" and vowed there will be "other countries very, very soon that will follow these great leaders."
"Together these agreements will serve as the foundation for a comprehensive peace across the entire region, something which nobody thought was possible, certainly not in this day and age," Trump said.
In a Facebook post, Franklin Graham, the head of the Billy Graham Evangelistic Association and son of the late evangelist Billy Graham, called the signing "historic."
"Peace in the Middle East impacts the entire world, and I commend President Trump, his son-in-law Jared Kushner, and others who have worked so hard toward this resolution," Graham wrote. "Even though much remains to be done, this is a start."
Click here to read more.
SOURCE: Christian Post, Samuel Smith