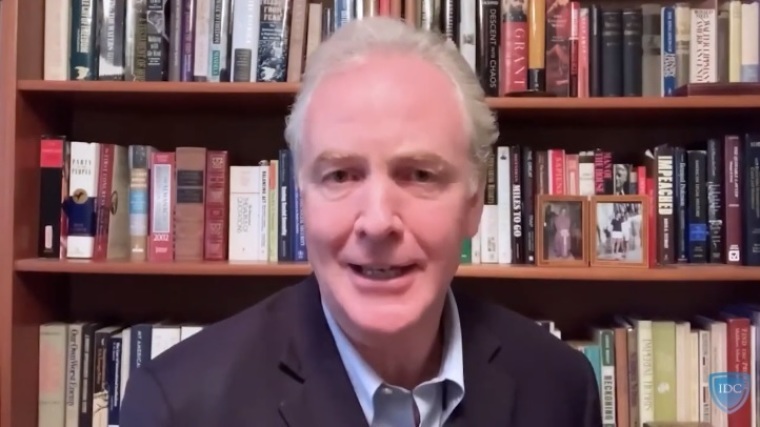 Democrat Maryland Sen. Chris Van Hollen was among a handful of lawmakers who spoke out against Christian persecution on Wednesday night, saying that Christian communities are the most under threat minorities in the Middle East.
Van Hollen was among several members of Congress who provided video messages played at an online global summit hosted by the prominent Washington-based human rights advocacy organization In Defense of Christians.
While the conference is traditionally held in person, this year it was moved online due to COVID-19 lockdowns.
"I'm proud to represent the great state of Maryland in the U.S. Senate. Maryland was originally founded by colonists who hoped to establish a safe haven for Roman Catholics who were fleeing religious persecution at that time in England," Van Hollen, 61, said.
"I am pleased today, we are home to a diverse group of faiths who are free to practice their religions. We need to make sure those same rights extend to people around the world. In the Middle East, the minority religions that are most under threat and pressure are Christian communities."
As many advocates across the globe have voiced concerns about the mass displacement of Christians in Iraq after the invasion of the Islamic State terrorist group in 2014, Van Hollen said the world needs to "make sure that those Christian communities have the rights that we have in the United States under the First Amendment of our Constitution and the rights set forth in the Declaration of Human Rights from 1948."
"I am proud to work with you on a bipartisan basis to do that," Van Hollen said.
"Let's continue to work together to make sure that we protect the right of religious freedom around the world. In the Middle East, that means coming together to make sure that we protect minority faith groups. And none is at greater risk and under greater pressure than Christian communities throughout the Middle East."
Van Hollen, in the past, has supported efforts advocated for by In Defense of Christians, which engages in grassroots political advocacy campaigns that lobby for the protection of persecuted ancient Christian communities in the Middle East. Among the efforts, Van Hollen and IDC have supported the Global Fragility Act of 2019 and Armenian Genocide Recognition.
More recently, Van Hollen teamed up with Sen. James Lankford, R-Okla., to send a letter to Secretary of State Mike Pompeo and Ambassador-at-Large for International Religious Freedom Sam Brownback asking the State Department to seriously consider recommendations made by the U.S. Commission on International Religious Freedom.
Click here to read more.
SOURCE: Christian Post, Samuel Smith