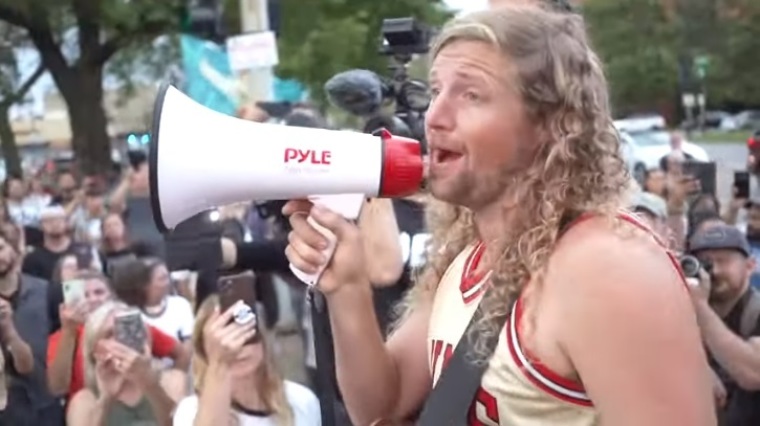 Police in Chicago prevented popular California worship leader Sean Feucht and the "Let Us Worship" movement from setting up musical equipment for a "riots to revival" worship protest to be attended by hundreds at a park in the city's South Side Wednesday, the evangelist said.
Feucht, who's led several worship events in cities impacted by riots in recent weeks, said on Facebook that Chicago police threatened to take action if the group began to set up musical equipment for a worship event at Washington Park that they did not have a permit for.
Feucht, the founder of the Let Us Worship movement who is known for his work with Bethel Music, charged that Chicago Mayor Lori Lightfoot "shut us down" and said that police threatened to arrest him and others if they began to set up the gear.
"We are here in the South Side of Chicago," Feucht says in one Facebook video.
"We got a lot of local pastors out here. We are setting up to worship peacefully over this city, a very diverse group. And the police show up. Over 30 of them are here to shut us down. They won't let us take our equipment out. Meanwhile, people are destroying this city with free reign. They are targeting Christians."
In another video, Feucht said that the "mayor alerted police to show up and shut us down."
"Right now, we have all of these officers and a whole line of police over there and over there," he said. "They told us if we set up right now that they would take all of our gear and bring us into prison. But Christians are rising up. This is our new day for the Church. This is our 26th city and we are not about to stop now."
The prayer event comes as Chicago has been victimized by looting in recent weeks and months amid the social unrest that has gripped the nation since the death of George Floyd in Minneapolis, Minnesota, on Memorial Day.
According to a co-organizer of the Chicago event who spoke with The Christian Post, organizers did not have a permit but were prepared to hold the worship event as a form of peaceful protest like they have done in other cities.
Officers told organizers that while they could continue to protest peacefully in the street, they were not allowed to erect any type of sound system or tent structure.
Click here to read more.
SOURCE: Christian Post, Samuel Smith