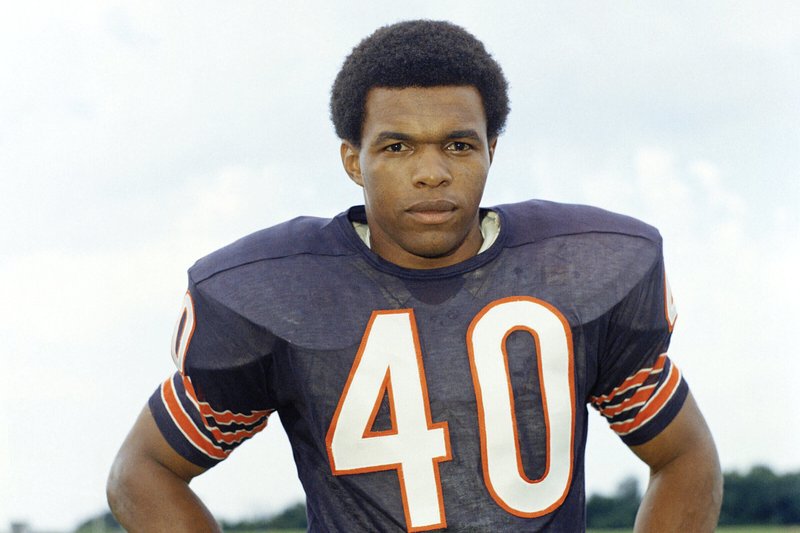 Former Chicago Bears star Gale Sayers, considered one of the greatest running backs in the history of the NFL despite a career cut short by knee injuries, has died at age 77 after living with dementia.
Known as the "Kansas Comet," Sayers was voted into the Pro Football Hall of Fame in 1977 despite playing just seven seasons, all with the Bears. At 34, he was the youngest player ever inducted.
"All those who love the game of football mourn the loss of one of the greatest to ever play this game with the passing of Chicago Bears legend Gale Sayers," Hall of Fame president and CEO David Baker said in a statement. "He was the very essence of a team player — quiet, unassuming and always ready to compliment a teammate for a key block. Gale was an extraordinary man who overcame a great deal of adversity during his NFL career and life."
Sayers was a five-time All-Pro who averaged 5 yards per carry for his career and twice led the league in rushing, including in 1969 (1,032 yards) after having torn the ACL and MCL in his right knee late in the previous season.
"Will miss a great friend who helped me become the player I became because after practicing and scrimmaging against Gale I knew I could play against anybody," said Hall of Fame linebacker and former teammate Dick Butkus. "We lost one of the best Bears ever and more importantly we lost a great person."
Butkus said he hadn't even seen Sayers play until a highlight film was shown at an event in New York that both attended honoring the 1964 All-America team. He said the real-life version of Sayers was even better.
"He was amazing. I still attribute a lot of my success from trying to tackle him (in practice)," Butkus said at the Bears' 100th anniversary celebration in June 2019.
"I never came up against a running back like him in my whole career, as far as a halfback. And that was counting O.J. (Simpson) and a couple of other guys," he added. "No one could touch this guy."
The Bears drafted Sayers and Butkus with back-to-back picks in '65, taking Butkus at No. 3 and Sayers at No. 4. It didn't take long for Sayers to win over veterans who had helped the Bears take the NFL championship in 1963.
"We were both No. 1s, so they're going to make it hard on us and show us the ropes and everything else," Butkus said. "But Gale just ran circles around everybody. Quickly, they adopted him."
Commissioner Roger Goodell said in a statement Wednesday, "The NFL family lost a true friend today with the passing of Gale Sayers. Gale was one of the finest men in NFL history and one of the game's most exciting players.
"Gale was an electrifying and elusive runner who thrilled fans every time he touched the ball. He earned his place as a first-ballot Hall of Famer. We will also forever remember Gale for his inspiration and kindness. Gale's quiet unassuming demeanor belied his determination, competitiveness and compassion."
Bears chairman George McCaskey noted there was more to Sayers legacy than playing football.
"Football fans know well Gale's many accomplishments on the field: a rare combination of speed and power as the game's most electrifying runner, a dangerous kick returner, his comeback from a serious knee injury to lead the league in rushing, and becoming the youngest player inducted into the Pro Football Hall of Fame. People who weren't even football fans came to know Gale through the TV movie "Brian's Song," about his friendship with teammate Brian Piccolo. Fifty years later, the movie's message that brotherhood and love needn't be defined by skin color, still resonates," McCaskey said in a statement.
A major injury to Sayers' left knee in 1970 was too much for him to overcome, and he retired in 1971.
His career numbers of 4,956 yards and 39 touchdowns on the ground came primarily over five seasons, as he played sparingly in 1970 and '71.
Click here to read more.
SOURCE: ESPN