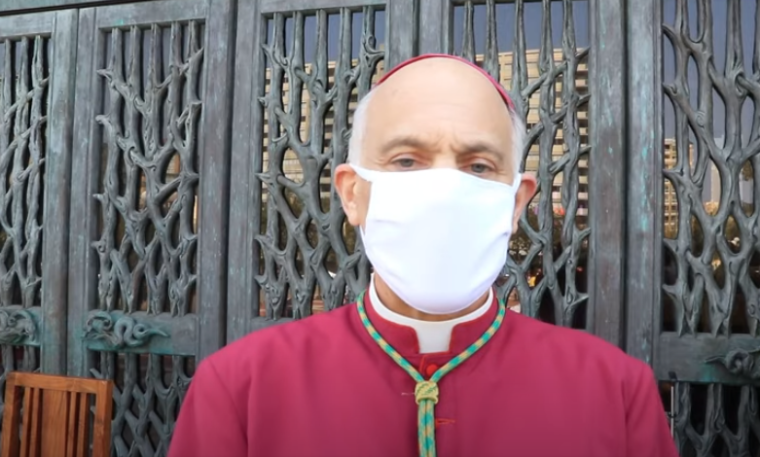 Six months into the coronavirus pandemic that prompted widespread economic shutdowns and disruptions to everyday life, Catholics in San Francisco marched in protest, decrying the worship restrictions that have prevented them from holding in-person masses as usual.
Three eucharistic processions originating at Catholic parishes throughout the city converged at city hall as protesters participated in the "Free the Mass" event Sunday. From there, attendees marched to the Cathedral of St. Mary of the Assumption, where outdoor mass was led by Archbishop Salvatore Cordileone. "We're very tired of being discriminated against because we've proven scientifically we can worship safely inside the church," he said.
Cordileone's discrimination claim reflects the fact that coronavirus restrictions limit indoor worship services to 50 people while not placing similar limits on secular businesses such as grocery and retail stores. Cordileone and others accused local officials of violating their First Amendment rights by enacting such restrictions.
"There's no reason to keep us shut out of church. It's a natural right protected by the First Amendment," Cordileone added.
"My rights as an American citizen have been trampled upon," said Guillermo Collado, a member of St. Peter's Parish who attended the protest. "We're equal under the law. And they're not treating us that way. They're treating us as non-essential, something that can be dispensed with."
Participants in the march disagreed with the notion that church was a "non-essential" activity. Members of the crowd repeatedly chanted, "We are essential, free the mass."
Cordileone maintained that an inability to attend church has had an impact on the people of his faith community.
Click here to read more.
SOURCE: Christian Post, Ryan Foley