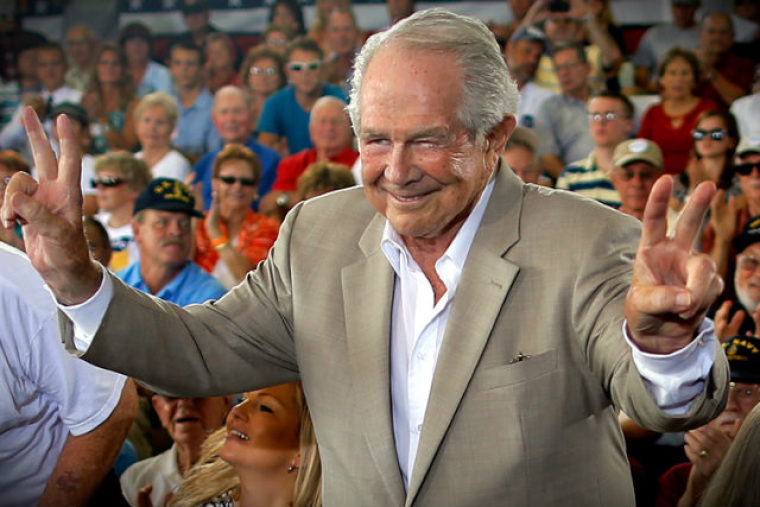 A co-founder of the Black Lives Matter Global Network has denied "dangerous" claims made by popular televangelist and television host Pat Robertson, who alleged last week that the activist group is trying to destroy Christianity.
"In response to the outlandish comments made by televangelist Pat Robertson, we are here yet again being attacked for standing up against white supremacy," Patrisse Cullors, the organization's executive director, said in a statement Saturday.
"To insinuate that our movement is trying to destroy Christianity is disgraceful and outright offends our Christian siblings who are a part of our movement against racial injustice."
The statement comes days after the 90-year-old Robertson said during last Thursday's episode of "The 700 Club" on the Christian Broadcasting Network that Black Lives Matter was seeking to use the cause of racial justice to promote an anti-Christian, "anti-family, anti-capitalist, Marxist revolution."
"Of course black lives matter, of course, we care about oppression against poor people. Everybody who's got any sense, they do that. They don't like police brutality or some of those things. But that legitimate thing has been hijacked by these radicals and they're using that label to put forth an agenda. And people need to be aware of it," Robertson stressed.
"They're talking about Marxist communism. They're talking about destroying the nuclear family. They're talking about destroying essentially Christianity as being racist. And all the way through, they want to upend the capitalist structure and destroy America."
"Of course we want to stand with oppressed people against police brutality," Robertson continued. "Of course we do. But we don't want to go along with a lesbian, anti-family, anti-capitalist Marxist revolution. We don't want that for America."
Click here to read more.
SOURCE: Christian Post, Leonardo Blair