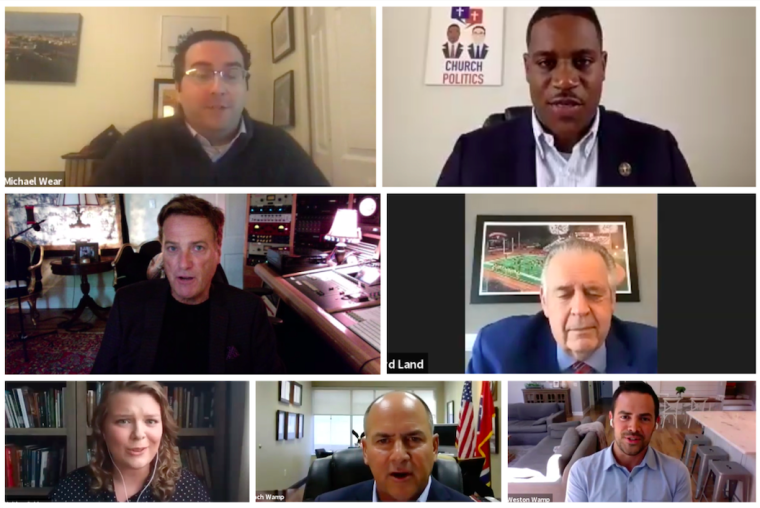 Ahead of a particularly contentious election season, a panel of influential Christian leaders, theologians, and authors gathered to discuss the importance of Christ-centered political engagement and bearing Gospel witness in a polarized society. 
The "People of Faith: Engage 2020" webinar featured CCM artist Michael W. Smith, Southern Baptist leader Dr. Richard Land, President Obama's evangelical outreach leader, Michael Wear, AND Campaign co-founder Justin Giboney, and young author and theologian Kaitlyn Schiess.
Hosted by Weston Wamp, senior political strategist at Issue One, a nonpartisan reform organization in Washington, and his father, former Tennessee Congressman Zach Wamp, the webinar focused on a wide range of issues pertaining to the political responsibility of the Body of Christ, both individually and collectively.
Opening the webinar, Zach Wamp cited Matthew 10:16, which says, "Behold, I send you out as sheep in the midst of wolves; so be wise as serpents and innocent as doves," to encourage Christians to engage with the political process.
"I think when Jesus comes back, He doesn't want to see us hiding and waiting," he said. "He wants to see us engaged."
Giboney, an attorney and political strategist in Atlanta, said there are two primary reasons Christians should participate in the civic space: To defend human dignity and promote human flourishing.
"The best way that we can do that, I think, is going against this false dichotomy … which kind of separates justice and order," Giboney said. "For so long it was thought that if you cared about justice in a social context or racial context, then you would go to the left. If you cared about order and morality, then you will go to the right. But when we look at the Gospel, when you look at the walk of Jesus Christ, there was no separation … you actually see them coming together."
"Christians need to be in that space because I don't think anybody can interpret it the same way as we do," he stressed. "I don't think any of these ideologies that sometimes Christians follow too closely have the moral imagination to provide the answers that we need at a time like this."
The webinar also addressed the cynical attitude of many Americans toward politics. A recent study found that the United States has one of the lowest rates of youth voter turnout in the world.
Wear, who co-authored a book with Giboney titled Compassion (&) Conviction: The AND Campaign's Guide to Faithful Civic Engagement, acknowledged that many young Christians don't want to engage with politics in D.C. because they're too "dirty" or "messy."
"You don't have a choice about whether you have a stake in our politics just by virtue of being a citizen, you have a responsibility," Wear contended. "As a Christian, and as a citizen, the only real choice you have to make is how to steward that responsibility."
Christians shouldn't go to politics for "ultimate things" like self-aggrandizement, identity, or a primary sense of community, Wear said, adding: "Christians find their security and their identity elsewhere. It's actually the fact that Christians find those ultimate things elsewhere that they're actually freed up, then, to enter into politics for the love of their neighbors, and for the good of the communities in which they live in."
Schiess pointed out that millennials and Generation Z, in particular, are "very attuned to what seems fake or inauthentic" and disillusioned by the hypocrisy that often seems born out of maintaining or accruing power.
Click here to read more.
SOURCE: Christian Post, Leah MarieAnn Klett