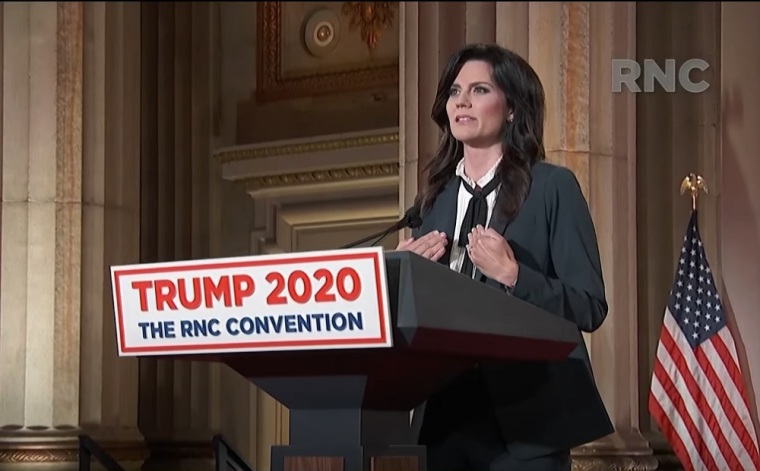 Granddaughters of the late evangelist Billy Graham voiced differing opinions about President Donald Trump Tuesday, with one praising the president during a Republican National Convention speech hours after the other published an op-ed critical of Trump's evangelical supporters. 
Cissie Graham Lynch, the daughter of the outspoken conservative Franklin Graham, offered brief remarks in her grandfather's hometown of Charlotte, North Carolina, on the second night of the RNC.
Her speech came just hours after an op-ed written by her cousin, Jerushah Duford, was published in USA Today accusing evangelicals of "failing the Gospel" for supporting Trump.
In her speech, the 34-year-old Lynch wasted little time in explaining why evangelicals shouldn't support the Biden-Harris ticket or the Democratic Party.
She criticized the Obama administration for its "attack" on First Amendment rights and for putting "little girls at risk" through enacting pro-transgender policies.
She went as far as to accuse the Biden-Harris vision for America of "leaving no room for people of faith."
Lynch, who serves with both BGEA and the evangelical humanitarian organization Samaritan's Purse, said America's Founding Fathers "fought to ensure that voices of faith are always welcomed, not silenced, not bullied."
"But during the Obama-Biden administration, these freedoms were under attack," she warned. "Democrats tried to make faith organizations pay for abortion-inducing drugs. Democrats tried to force adoption agencies to violate their deeply held beliefs. Democrats pressured schools to allow boys to compete in girls' sports and use girls' locker rooms."
"Those are the facts. But then, we the people elected Donald Trump," Lynch, who also serves on President Trump's Faith Advisory Council, continued.
Lynch asserted that after Trump's election, people of faith had a "fierce advocate" in the White House who appointed judges who "respect the First Amendment."
Click here to read more.
SOURCE: Christian Post, Samuel Smith