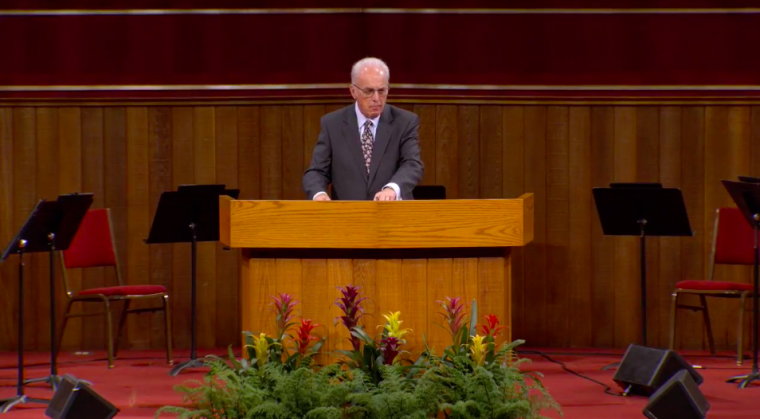 Pastor John MacArthur, whose California church is holding in-person services in violation of the state's COVID-19 health orders, opened his most recent sermon by welcoming his congregation to "the Grace Community Church peaceful protest."
"Good morning, everyone. I'm so happy to welcome you to the Grace Community Church peaceful protest," MacArthur, senior pastor of Grace Community Church, a megachurch in Sun Valley, California, said Sunday morning, drawing cheers and applause from worshipers.
MacArthur went on to explain that, "based on the Word of God," his church is "pro-life, pro-family, pro-law and order, and pro-church of the Lord Jesus Christ."
The preacher then invited a chaplain from the Los Angeles Police Department to deliver the service's opening prayer. The chaplain prayed that MacArthur and his congregation would have the "wisdom and faith to weather all of the things going on in church and outside church."
MacArthur preached from 1 Corinthians 1, which reads in part, "For the foolishness of God is wiser than human wisdom, and the weakness of God is stronger than human strength."
"We are here in obedience to our Lord, we are here because He has given us commands, not in a personal esoteric way, not through some vision or dream, not because I hear voices from Heaven, I don't, but because I have a Bible," he said. "Grace Church is defined by its commitment to Holy Scripture. For true Christians, the Bible is our greatest treasure."
The mark of a true Christian is the love of Scripture, MacArthur said, adding: "God's true church has always been a place where people hunger for the truth from the Bible. That's why we're here."
Click here to read more.
SOURCE: Christian Post, Leah MarieAnn Klett