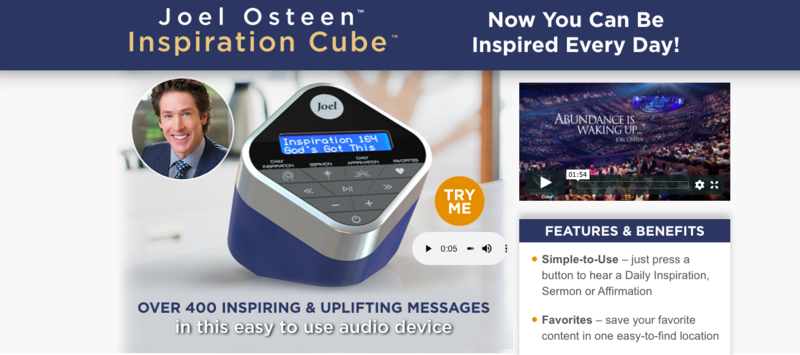 The "Joel Osteen Inspiration Cube," an electronic device that plays daily affirmation, inspirations, and brief sermon clips from the senior pastor of the 40,000-member Lakewood Church in Houston, Texas, has hit the market. 
According to the "Joel Osteen Inspiration Cube" website, the cube is $39.99 and includes 365 daily inspirations, 52 sermons, and 31 affirmations that play with the push of a button.
"Start each day with just a touch," the website reads.
A spokesperson for Lakewood Church told The Christian Post on Tuesday that each purchase supports the missions ministry at Lakewood Church.
"Lakewood Church has licensed Pastor Osteen's messages to Idea Village of New Jersey for the creation of the Inspiration Cube," the spokesperson said. "The cube is a library of Joel's inspirational messages in a portable rechargeable audio device."
Osteen won't receive any personal compensation from the sales of the Inspiration Cube, which will be available in September in stores across the country, including Walgreens, CVS and Walmart.
"The Inspiration Cube is an ideal complement to the many ways that Lakewood delivers Joel's message of hope and inspiration around the world such as television, SiriusXM radio, internet streaming, social media, books, podcasts, and live events," the spokesperson added.
Click here to read more.
SOURCE: Christian Post, Leah MarieAnn Klett