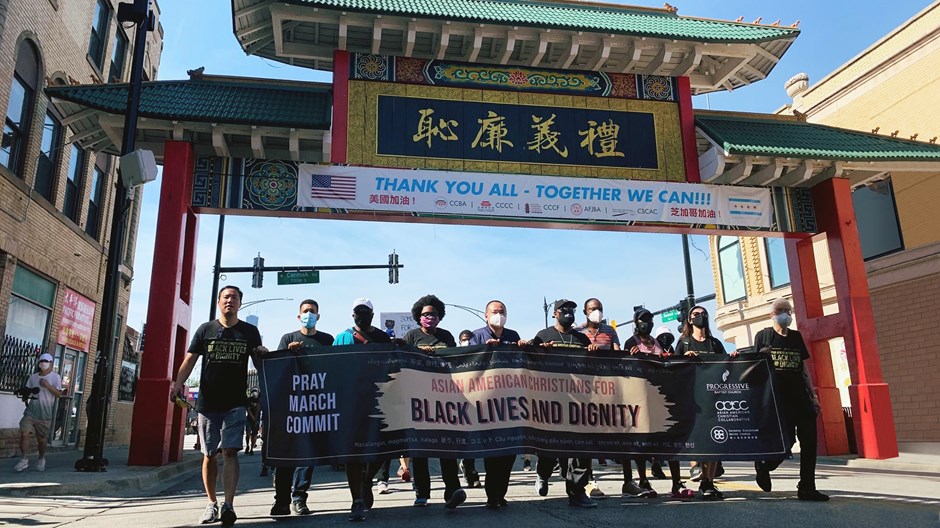 Late last month, a crowd of mostly young Asian American Christians gathered in the parking lot of the historically black Progressive Baptist Church on the South Side of Chicago. The group of more than 1,000 had marched two miles through the city's Chinatown and into a predominantly black neighborhood just south of it, crossing an unspoken border that divides the historic minority communities.
"This was a spiritual act in opposition to the powers and principalities that seek to destroy and divide the church. We broke the stronghold that divided our communities and we said enough is enough," said Raymond Chang, president of the recently founded Asian American Christian Collaborative (AACC), which organized the march.
Participants came from Chinese Christian Union Church in Chinatown and Progressive Baptist, led by Charlie Dates, along with representatives from over 100 churches to rally together in an act of Christian solidarity. Both congregations have been stalwarts in the city for over a century.
Chang and his cohort represent a growing number of millennial and Gen Z Asian American Christians who are striking a new tone when it comes to seeking racial justice and calling out racism in their own communities. Predominantly American-born, these church leaders are paving a path distinct from the historically mono-ethnic enclaves of the immigrant church and choosing instead to build stronger interracial church partnerships.
The AACC was founded in March as a response to the worldwide spike in anti-Asian racism following the start of the COVID-19 pandemic. Now the collaborative of East, Southeast, and South Asian church leaders is taking aim at the often-latent anti-black racism within the ethnic churches it represents, holding online panels with black Christian leaders like Esau McCaulley and Ekemini Uwan and pushing members to examine how "Asian Americans have served as a wedge against our Black and Brown peers."
Tao Thou, one of the police officers charged with the killing of George Floyd for failing to intervene, recently reinvigorated discussion among Asian Americans. Thou's actions were a "perfect representation of Asian American complicity in racism," wrote Larry Lin, a pastor at the Village Church in Baltimore. Others, like Ashley Gaozong Bauer, a biracial white and Hmong American minister, found such arguments reductive. "You look at one Hmong man, call him Asian, and then project your collective shame unto a people group that has never been fully received by 'Asian Americans,'" she wrote.
Typically established to minister to the recently immigrated, mono-ethnic congregations have acted as cultural safe havens for newcomers to the United States looking to maintain a cultural connection to their homeland. A 2012 survey by the Pew Research Center found that 42 percent of Asian Americans are Christian. And while many of these immigrant communities initially operate within cultural bubbles adjacent to the majority culture, there can be strong deference toward the "American way of life" by those who have emigrated to the US by choice.
"There's this overarching desire among Asian Americans to try and be like white people while simultaneously ignoring black people," said Lin, who was raised in a Chinese immigrant church in San Jose, California. "That ignorance itself is complicity."
While blacks and Asian Americans are both racial minorities in the US, many believe that solidarity among these ethnic groups cannot occur until the "model minority" ideology is dismantled. Coined in 1966 in the midst of the civil rights movement, the term presupposed that Asian Americans (specifically Chinese and Japanese Americans) were outpacing other non-white groups in their ability to assimilate and achieve economic success. Both statistically inaccurate and culturally reductive, the label has been historically used to distinguish Asian Americans, seen as hard-working and unproblematic, from African Americans.
"For many Asian Americans, the American dream was true," said Peter Cha, a professor of church, culture, and society at Trinity Evangelical Divinity School. "Partly because of that, when they looked at African Americans in particular, they repeated the narrative that black suffering was their own fault."
Plus, he said, "their churches historically idealized the United States as a morally upright Christian nation, so in that narrative, America could not be an ugly racist country."
More of today's Asian American Christian leaders, like those involved in the AACC, are changing the narrative and turning to Scripture for a more robust understanding of the church's role in addressing racial injustice.
On the AACC blog, Dallas Theological Seminary student Andrew Wong confronted this ideology and rebuffed his own identity within the model minority myth, saying, "As followers of Jesus, we must lay aside 'hollow and deceptive philosophy' (Col. 2:8) that divides, and instead move forward in full fellowship, of one mind, in Christ Jesus."
At Lin's multiethnic church in Baltimore, leaders have devoted weekly prayer meetings to lamenting over racial injustice, hosted an online panel with black church leaders, and released a list of anti-racist reading materials for the church to access.
"I used to see conversations on race as pandering and distracting from the gospel, but now as I read the Bible I can't avoid seeing its racial connotations," he said. "It's so relevant to our context. We need to be talking about race in Bible studies and sermons."
On the West Coast, Roy Chang (no relation to Raymond) opened the pulpit at Seattle Chinese Alliance Church to black church leaders he's known for over a decade through community partnerships. "There's something deeply, deeply wrong when black people have been crying out for centuries and the church has no response," said Chang.
Click here to read more.
Source: Christianity Today