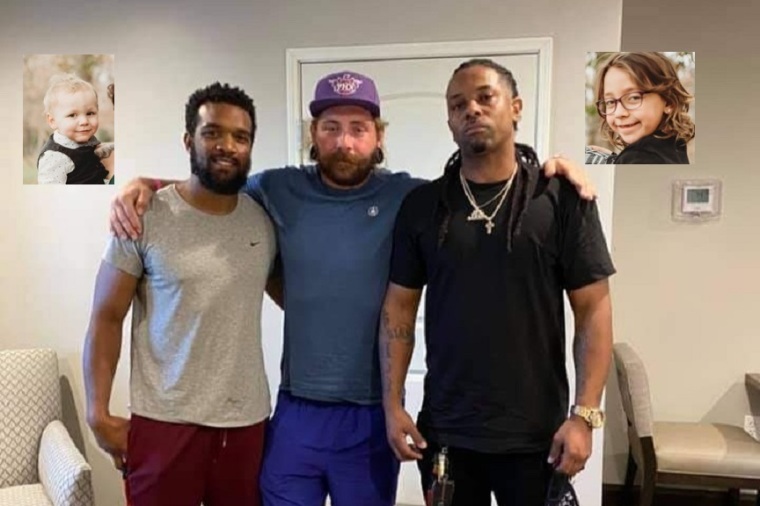 Two Arizona men are now being hailed as heroes after one of them caught a 3-year-old boy thrown from the balcony of a burning building by his desperate mother while the other broke through the door of a blazing apartment to save the toddler's sister after the mother succumbed to the flames.
A decade ago, Phillip Blanks, 28, a retired U.S. Marine, played wide receiver at Kalamazoo Central High School in Michigan. Last Friday morning, however, as he was visiting a friend's apartment in Phoenix he rushed outside barefoot after hearing screaming.
He soon realized that the apartment complex was burning on the top floor and a woman, identified as Rachel Long, 30, was on a third-floor balcony with a child with flames behind her, The Washington Post reported.
"People started yelling for the lady to throw her kids down," Blanks told the publication. The scared woman dropped her son and as he saw the boy, identified by family as 3-year-old Jameson Long, all his training from football and the military kicked in.
LIFESAVING CATCH: Eyewitness video shows Phillip Blanks – a former college wide receiver – sprint to the scene of a third-floor apartment fire in Phoenix before catching a small child thrown from a balcony; the mother of the child did not survive. – ABC news #Arizona #LivePD pic.twitter.com/u128kzC2ky

— Dr. Carlos – Forensic Psychology Consultant (@insidethebadge) July 7, 2020
"I immediately got tunnel vision of the baby and somehow managed to catch him," Blanks said of his heroic act that was caught on video and posted to social media.
"People were screaming 'there are kids up there' and to throw the kids down," Blanks told WWMT. "I saw another guy was standing there ready to catch the boy, but he didn't look like he was going to do it, so I stepped in front of him. The way I caught him damaged his foot, but the most important thing is his head was safe."
Blanks' catch, however, wasn't the end of saving the children of the Long family.
D'Artagnan Alexander, a 42-year-old barber, told The Washington Post that he was driving to work when he heard screams and noticed the flames from the building. He stopped his car and ran to the building. That's when he heard a scream. It turned out to be Jameson's 8-year-old sister, Roxxi.
"I heard someone scream for help and I found the girl on the floor and carried her outside," said Alexander. "Everything happened so fast. I didn't have time to think, my body just kicked into action and I went in."
As a father of two young children, he explained, he didn't hesitate when he heard that there were children inside the burning apartment complex.
Click here to read more.
SOURCE: Christian Post, Leonardo Blair