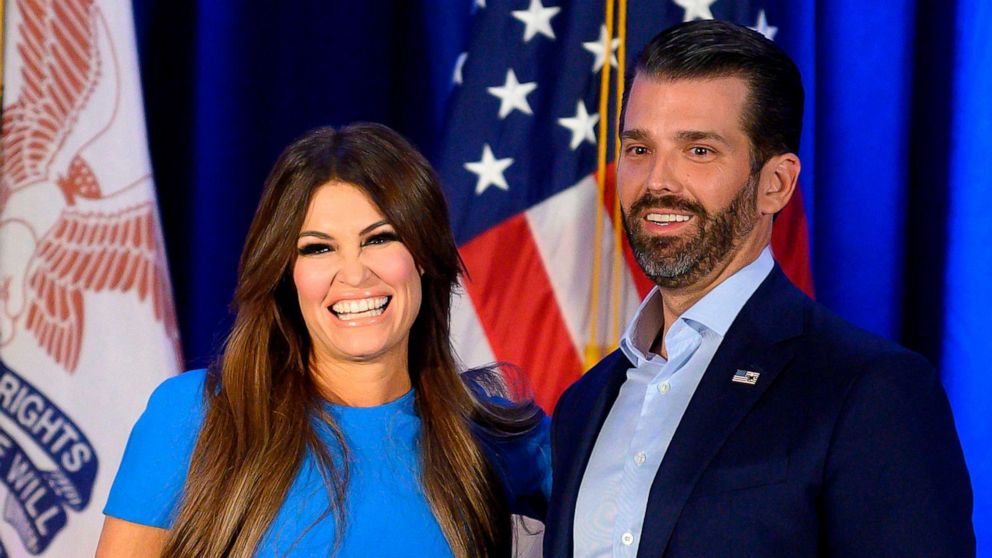 Kimberly Guilfoyle, the girlfriend of President Donald Trump's oldest son and a top campaign official, tested positive for COVID-19 ahead of the Fourth of July event at Mount Rushmore.
Guilfoyle, 51, tested positive ahead of the South Dakota event but her boyfriend Donald Trump Jr., 42, did not, a source familiar told DailyMail.com.
The two, who had been in Montana, traveled to South Dakota with plans to watch the fireworks display and listen to the president speak during the Independence Day celebration.
She and Don Jr. never met up Trump's team and, out of caution, will drive back from South Dakota all the way to the East Coast. It's likely that the long drive will come out of taxpayers' pockets and that the agents overseeing the trip will need to isolate for two weeks.
It's become customary for people within Trump's circle to be regularly tested for the virus as the pandemic continues to grip the country and infections surge in the southern US
Prior to the diagnosis, Guilfoyle reportedly did not experience any symptoms.
The campaign said Guilfoyle, who is a regular at Trump campaign rallies and hosts a weekly online show for Team Trump, is doing well and isolating.
'After testing positive, Kimberly was immediately isolated to limit any exposure. She's doing well, and will be retested to ensure the diagnosis is correct since she's asymptomatic, but as a precaution will cancel all upcoming events. Donald Trump Jr was tested negative, but as a precaution is also self isolating and is canceling all public events,' said Sergio Gor, the Chief of Staff for the Trump Victory Finance Committee, in a statement.
Anyone having contact with the president is tested for the virus – a policy put into place after two White House staffers in close proximity to the president tested positive for the disease.
Guilfoyle spoke at Trump's campaign rally in Tulsa, Oklahoma, on June 20 – an event that was supposed to restart the president's re-election campaign but was besieged with problems, including lower than expected crowds and eight members of the advance team testing positive for the coronavirus.
Source: Daily Mail