Question: Why all the controversy over President Trump's Mount Rushmore Speech on 4th of July weekend?
Unless you have been on a spiritual retreat and completely cut off from electronic communication, you know there has been an amazing kerfuffle over President Trump's speech at Mount Rushmore on the Friday of July 4th weekend.
If you have not seen the speech, I would encourage you to watch it. Whether you are a Trump fan or not, it was without doubt the best speech of his presidency.
The president, against the dramatic backdrop of Mount Rushmore, delivered a full-throated, eloquent defense of American exceptionalism in a speech that was both inspirational and aspirational.
However, you would never know this, or be able to deduce it, from the reporting in the mainstream media. These mainstream media mavens hated the speech so much that they would not, or could not, report it accurately. Perhaps the most egregious example was the "news" article on the speech by the Washington Post's Robert Coats and Philip Rucker. These "reporters" commenced their account of the event with this lead: "President Trump's unyielding push to preserve Confederate symbols and the legacy of white domination, crystallized by his harsh denunciation of the racial justice movement Friday night at Mount Rushmore. . . ."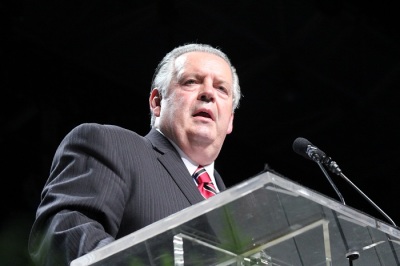 Big problem. President Trump made absolutely no reference to the Confederacy or anything related to it. His only mention of the Civil War was to praise President Lincoln for the abolition of slavery.
Picking up this theme of falsely reporting Mr. Trump's remarks, Senator Tammy Duckworth of Illinois (evidently on Joe Biden's short list for a running mate), said that Mr. Trump "spent all his time talking about dead traitors." One assumes she was not referring to Washington, Jefferson, Lincoln, or Theodore Roosevelt — former presidents all — who were the historical figures Mr. Trump most prominently defended.
Whether President Trump is your "flavor of the month" or not, the speech itself was a powerful narrative both of America's uniqueness and its ongoing promise.
As Rich Lowry of National Review Online described the president's speech, "It would be difficult to get a more textbook expression of the American civic religion than the speech at Rushmore . . . or a more affirming account of the greatness of America and its meaning to the world."
Lowry went on to characterize the speech as "a celebration of America's Founders, its ideals and freedom, its capacity for self-renewal, its astonishing variety of geniuses, adventurers, warriors, inventors, and great musicians and athletes."
Click here to read more.
SOURCE: Christian Post, Richard D. Land