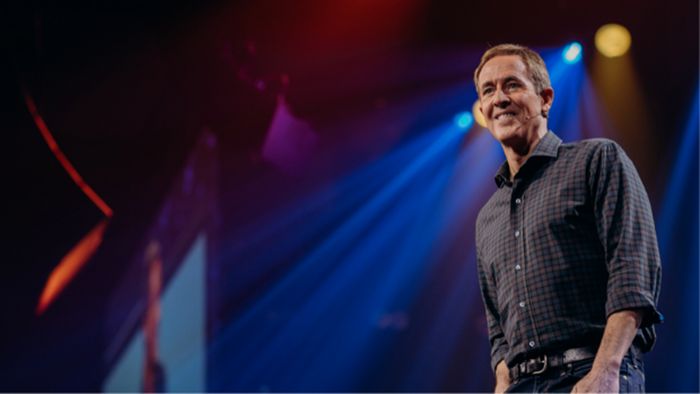 Andy Stanley, founder of North Point Ministries, announced that their churches will not hold in-person church services for the remainder of the year. Their decision made international news and, I imagine, will influence many other churches to take a similar approach. I reached out to Andy and he agreed to do an interview. You can hear that interview on our podcast, the Stetzer Leadership Podcast. Here is a direct link to the podcast on iTunes / Apple Podcasts. Or, we've edited this into a two-part series, and this is part 2. You can read part 1 here. Daniel Yang and I co-host the podcast, and we've edited our questions for space and the interview for space and clarity.
---
Daniel Yang: What do you think the cadence of communication is going to be like for you?
Andy Stanley: This is one of the things I'm telling leaders: during times of uncertainty, our voice is more important than our words. People need to hear your voice. About every third email I send out I actually video myself reading the email to our congregation. People need to hear our voice, not just read our words, and our presence is way more important than our preparation or our presentation. We have to figure out how to be more present. We have to figure out how to help people hear our voices. Not because we're important, but because they look to us for leadership. And then the third part of that is people want clarity. One of the things I know our staff tells me they appreciate is, "Andy, thank you for not making us go week to week and wonder, because some churches in our area, they won't announce ahead of time."
They're saying, well, we're going to wait and see. Well, you can't plan. You can't be strategic. And I don't think you can be missional if it's wait and see. I told our staff, Here's the good news. You don't have to think about coming up with an opening plan between now and Christmas. We are a hundred percent going to create assets for children, preschoolers, middle school, and high schoolers. We're going to continue to focus on small groups and online preaching. We've been doing that for a long time anyway, so that clarity doesn't remove the uncertainty, but it helps people know what to do.
And that is the key. It's like Joshua at the Jordan river. The people want to know what's going to happen. Joshua says, Hey, pack your stuff, get some lunches together. In three days show up right here. At this spot we're crossing the Jordan river. So clarity in the midst of uncertainty is the name of the game. And this is a great opportunity for church leaders to provide clarity.
Ed Stetzer: With not meeting, what does that mean for North Point's environments—your strategy of bringing people to church to share the gospel?
Andy Stanley: Ed, you and I both agree that there's not a one size fits all church. I'm really not being critical of other churches because you have to walk in a church's shoes to understand why churches do the things they do. But to the point of this question, focusing our time and resources on trying to open on Sunday morning is definitely not our plan because again, so few people are going to come and they're not going to invite their friends and neighbors to this not so great environment. It forces us to then ask, well, what can we do and what kind of resources can we create and what can we invite people to? And how do we get these resources in front of people who may normally not be interested?
The good thing about fear is it generally causes people to look up. Part of the challenge for all of us in church leadership is to figure out how to continue to be missional, how to continue to be on task of making disciples, not just biding our time, not just treading water, not just waiting for things to get back to normal. One of the things I've told our church from the very beginning is we are going to be better for this. There are things that we're going to learn that we're going to take forward. In fact, there are already things we've learned that we're taking forward, but we are going to be better for this. But the only way to be better for this is to embrace this as the new normal. Otherwise, we're just going to sit on our hands and wait for things to get back to normal. A pandemic is a terrible thing to waste. All tragedy is a terrible thing to waste. So we want to be better for it. And I think a lot of churches are going to be better for it because we're forced to try innovative things.
Click here to read more.
Source: Christianity Today