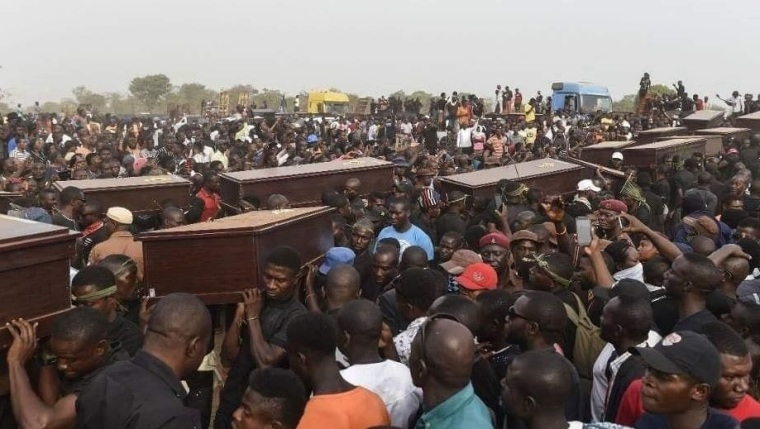 A genocide expert and former Congressman Frank Wolf have warned that violence being committed against Christians in Nigeria and the U.S. government's "failed" response to it could lead to another genocide like the ones that occurred in Rwanda and Darfur. 
Wolf, a longtime Republican representative from Virginia who is the namesake of the International Religious Freedom Act passed by Congress in 2016, joined Genocide Watch's Greg Stanton, Nigerian bishops and other religious freedom advocates on a Zoom call with reporters last week hosted by the advocacy group In Defense of Christians.
"When the world and the U.S. ignored genocide in Rwanda, hundreds of thousands of people died. History, I believe, is repeating itself," Wolf contended. "Almost daily reports show increasing violence and death in Nigeria. An implosion of Nigeria will destabilize the surrounding countries and send millions of refugees into Europe and beyond."
The conversation comes as estimates show that thousands have been killed and millions displaced since 2015 due to attacks carried out by predominantly Muslim Fulani militias against predominantly Christian farming communities in the Middle Belt of Nigeria as well as Islamic extremist attacks carried out by Boko Haram and Islamic State West Africa Province in northeast Nigeria.
Advocates have for years called on the international community to recognize the ongoing violence in Nigeria as a "genocide." Genocide Watch, a nonprofit formed in 1999 that seeks to raise awareness and influence public policy regarding acts of genocide, estimates that as many as 27,000 people have been killed by extremists or Fulani jihadis in the last decade.
According to Genocide Watch, the violence carried out by Fulani militias and Islamic terrorists in Nigeria combine to make "the deadliest genocidal massacres committed by any terrorists since 2010."
"Boko Haram has committed genocide in Nigeria, has killed over 27,000 Nigerians, more than ISIS killed in Iraq and Syria combined," Wolf stressed during his opening remarks. "The Fulani militants are committing genocidal massacres against Nigerian Christians."
While some international organizations have in the last year warned the International Criminal Court about the genocidal implications in Nigeria, Stanton, the Genocide Watch founder, told those on the call that Genocide Watch has labeled the pattern of Fulani jihadi violence in Nigeria a "genocide" since 2012. He said that Genocide Watch raised alarms about the genocidal implications of Boko Haram long before 2012.
"What is preventing the world from facing this huge problem?" Stanton asked. "The first problem that we face [with] the Fulani militias is the dominant current narrative, which is denial."
"Denial is a part of every genocide. It starts in the beginning and it usually goes way after. What we got here [in Nigeria], the traditional narrative is the herder-farmer conflict. That was exactly the narrative, by the way, in Rwanda, before the genocide there."
Click here to read more.
SOURCE: Christian Post, Samuel Smith