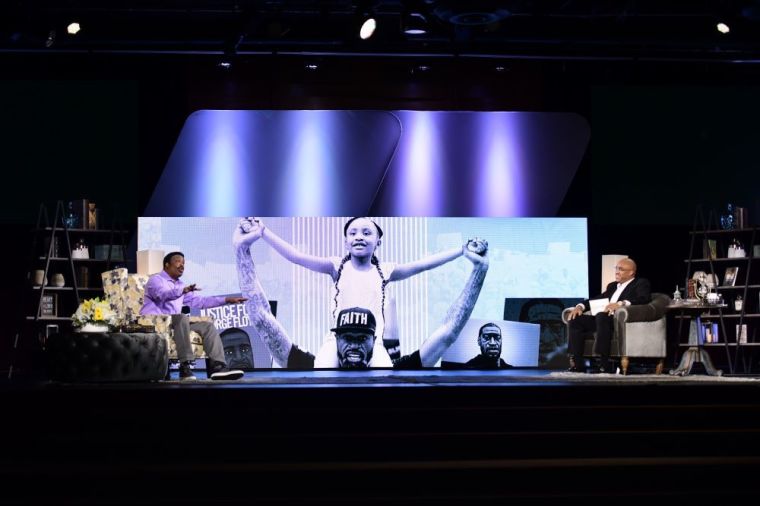 A packed lineup of celebrities and influential pastors joined Bishop Kenneth C. Ulmer for a special online Father's Day event Sunday reflecting on the blessing and "power" of fathers amid a national outcry following the death of African American father George Floyd.
Ulmer, senior pastor of Faithful Central Bible Church in Inglewood, California, hosted the event, titled "Daddy Changed the World: The Pain and Power of Fatherhood."
The nearly 2-hour event featured remarks from celebrities like former boxing champion "Sugar" Ray Leonard, television personality Steve Harvey, actor Tyrese Gibson along with influential pastors such as Rick Warren and T.D. Jakes.
Ulmer explained that the theme of the event — in which speakers spoke about fatherhood and the ongoing calls to end racism and police reform — came from the words of Floyd's 6-year-old daughter, Gianna.
"She is famous because her dad is famous. She made a very powerful, what I believe, a very prophetic statement when asked why everyone was talking about her dad, George Floyd. She said, 'Daddy changed the world,'" Ulmer said.
"We recognize that we serve an Abba. We serve a Daddy. We serve a Father. That Father in Heaven has the power to change this world. We are going to celebrate what God is doing in the Earth realm around the theme of the pain of fatherhood, the power of fatherhood."
"We are going to see what God did when He blessed this world with fathers," he added.
The 41-year-old Gibson, a singer-songwriter and actor who has starred in films such as the "Fast & Furious" series, was raised along with his three siblings by his mother after the departure of his father as a child.
"I think any one of us [fathers] who grew up in a household with no father, the painful commitment that we are making, we carry this in our conscience," he said. "Growing up with an empty hole in our hearts and our heads because we never had a relationship with our fathers has made us do the best that we can to make sure that our kids know that we have a real relationship with them."
"Sorry for rambling but when it comes to this topic, I am very passionate," he added. "Just don't be too hard on yourself. We all out here doing the best we can with all we have."
Harvey, the host of the "Family Feud" television game show, said that being a father is one of the greatest joys of his life. He added that the two most important things that a father can provide for his child are "love" and "guidance," not fame and fortune.
"A lot of times, there are a lot of good men out there who are denied the opportunity to be dads simply of because of finance or some ill feelings toward your mate that created the child," Harvey said. "But we got to give these men a chance to get past that. Because you are stopping a great relationship between a father and a child. A boy needing a father is critical. A daughter needing a father is just as critical too because they learn about love and what real love looks like from a father."
Harvey, 63, called for all fathers to be the best "dads" they can be.
"Anybody can be a father. It takes a special man to be a dad," Harvey said. "I like those step-up fathers; not a stepfather, but a step-up father. Those men who have taken women and accepted women and their children as their own who provided education and leadership and protection and security for children who wouldn't know what that was unless you were a step-up type dad. It's those men who I hold a special place in my heart for also."
Warren, pastor of Saddleback Church and author of The Purpose Driven Life, said that the world "needs dads now more than ever before who can change the world."
Click here to read more.
SOURCE: Christian Post, Samuel Smith