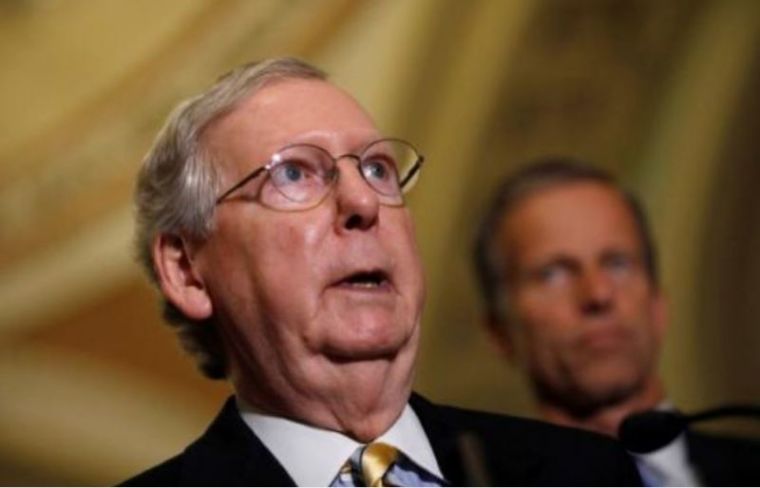 Republican Senate Majority Leader Mitch McConnell called out a "double standard" among Democrats who restricted the First Amendment right of Christians to gather for in-person worship services during the coronavirus pandemic but celebrated throngs of people protesting in the nation's streets in the wake of George Floyd's death.
"I'm grateful that after several harrowing days of looting and riots law enforcement restored order and helped these peaceful protesters be heard, notwithstanding the far left calls to disband the police altogether. I believe most Americans are ready to consider how the memories of black Americans like George Floyd and Breonna Taylor can move us to continue combating residual racism," the Kentucky senator began in an address to the Senate Tuesday.
He then made it clear that his address would be about defending the First Amendment right of all Americans to speak out about issues they strongly support and not just the ones endorsed by "powerful people."
"It is becoming clear to many Americans, including many who appreciate and applaud the recent protests, that our national life during this pandemic has slid toward a double standard," McConnell said. "Many Americans feel they have just seen those fastidious regulations and that puritanical zeal disappear in an instant because a new cause has emerged that powerful people agree with.
He noted that state and local leaders "put normal American life totally on ice" for weeks and asked citizens to make fighting the coronavirus a priority while making many sacrifices.
"For weeks, the mainstream media heaped scorn on any small citizen protest, outdoor gathering or even the suggestion that other important values might require a reappraisal of certain restrictions," he said.
"A month ago, small protest demonstrations were widely condemned as reckless and selfish. Now, massive rallies that fill entire cities are not just praised but are called especially brave because of the exact same health risk that brought condemnation when the cause was different," McConnell continued.
Click here to read more.
SOURCE: Christian Post, Leonardo Blair