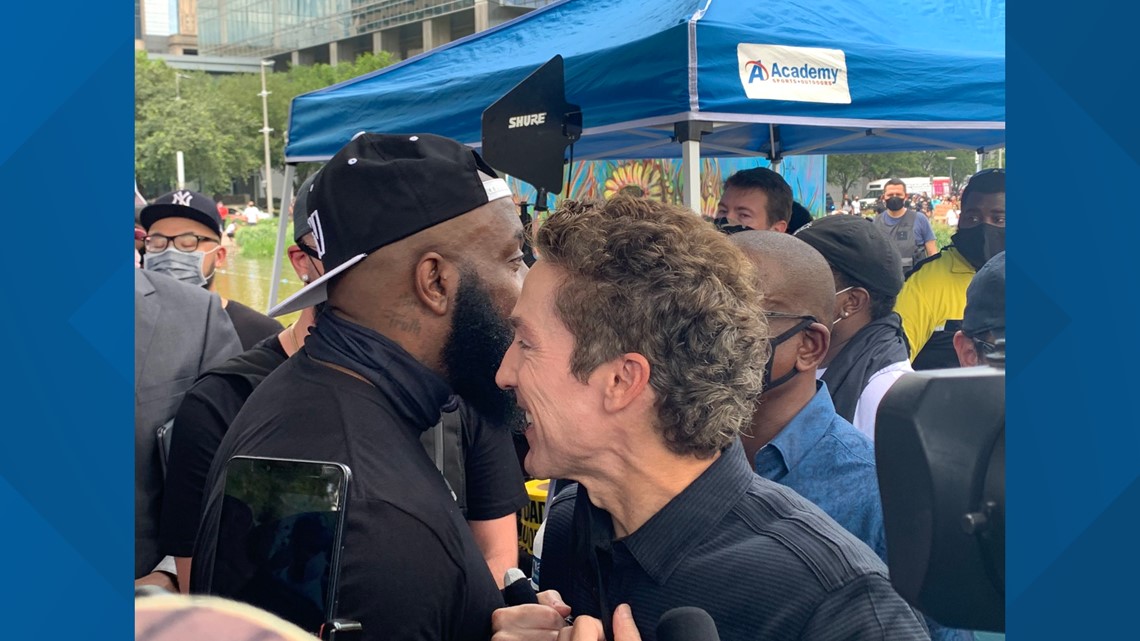 Pastors and Christian entertainers took part in Blackout Tuesday, a movement to spread awareness, mourn and call for policy change in America following the death of George Floyd. 
The movement was meant to encourage individuals, organizations and brands to only post messages on social media speaking out against racism toward black and brown people, and using a simple black background.
Black squares filled Facebook, Twitter and Instagram instead of the various posts that usually flood the web as a peaceful demonstration against injustice. The hashtags #BlackLivesMatter or #BlackoutTuesday accompanied the blackout photos from many people from across the world who posted content to help educate others on issues people of color face.
Over the last week, demonstrators across the United States have taken to the streets to protest the death of Floyd, who died in the custody of Minneapolis police on Memorial Day. Floyd's brother recently broke his silence and publicly shared that his "brother was about peace" while condemning the violent protests nationwide that have led to hundreds of arrests.
Joining the movement in solidarity Tuesday was President Donald Trump's spiritual adviser Paula White who posted her blacked-out squares.
"Injustice anywhere is a threat to justice everywhere," she quoted Martin Luther King Jr. In another post, she shared from Psalm 121:1-3, which says, "I lift up my eyes to the mountains— where does my help come from? My help comes from the Lord, the Maker of heaven and earth. He will not let your foot slip—he who watches over you will not slumber." She added, "God is your Helper! He has you … Turn to Him."
Houston megachurch pastor Joel Osteen also joined in by quoting John 13:34, which states, "A new commandment I give unto you, That you love one another; as I have loved you, that you also love one another," along with the hashtag #BlackOutTuesday.
Osteen was among tens of thousands of people who marched in downtown Houston on Tuesday against injustice and to pay tribute to Floyd, who grew up in Houston. He told KHOU that he was there to support the Floyd family, whom he grieves with. "We're all outraged but I think we can turn the anger into action, that we can do our part to love one another," he said.
Both Pastor Tony Evans and Pastor John Hagee in Texas shared Micah 6:8: "He has shown you, O mortal, what is good. And what does the Lord require of you? To act justly and to love mercy and to walk humbly with your God."
Hillsong Senior Pastor Brian Houston, who is based in Sydney, Australia, posted a message on his Instagram account that included an apology over comments made by Hillsong Church London Pastor Gary Clarke, which were not specified.
Respected Bible teacher and pastor Charles Stanley's church shared 1 Corinthians 12:25-26 in its post, which says, "That there may be no division in the body, but that the members may have the same care for one another.  If one member suffers, all suffer together; if one member is honored, all rejoice together."
His son, popular pastor and author Andy Stanley simply wrote, "Listening" on his black square post. 

Popular televangelist Joyce Meyer wrote a five-picture message to go along with her Blackout Tuesday post.
"I have been crying out to God for unity. Period. My heart is broken by the tragic senseless deaths of black Americans and the state of our nation. God created us all in His image equal and unconditionally loved. We must work diligently to love and value one another in the same way.
"In the same way, and we must speak out against injustice.
"Because of the abuse in my childhood. The poison that is anger, bitterness and hatred, nearly destroyed my own life. And I have learned that the love of Jesus is the only antidote. I am praying for our nation, and all of her people for healing forgiveness reconciliation and justice. God wants better for us whole overcome evil with good love conquers all."
Click here to read more.
SOURCE: Christian Post, Jeannie Law