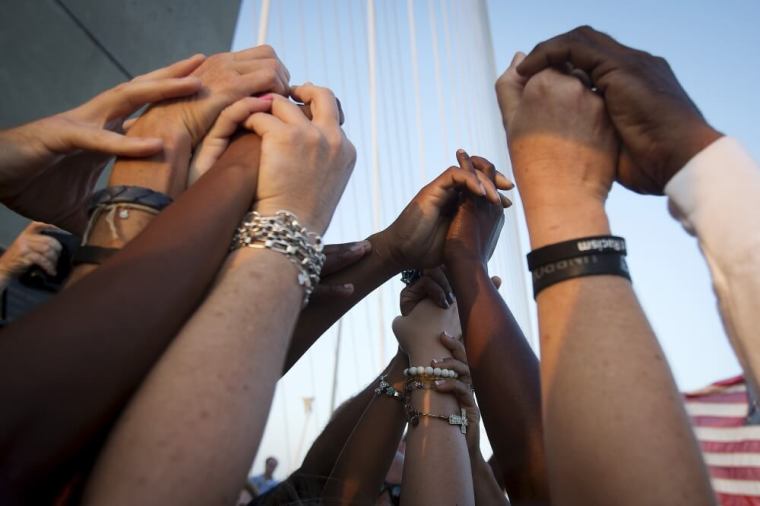 It was a hot summer day in July 2016 when my wife and I attended 'Together,' the largest Christian event ever held in the U.S. at the Washington monument in D.C. Thousands of Christians descended on the nation's capital, to seek God's face and heart for our generation and to bring a message of unity amidst the growing divisions within our country.
There were several Christian speakers and musicians who spoke and sang throughout the event, and one of the moments I've thought a lot about in recent days was when Christian hip-hop artist, Lecrae, came to the stage. He performed his hit song at the time, "Welcome to America" and then He pleaded for us to love our neighbor, and he brought up the parable of the Good Samaritan, a parable where the religious community turned past and ignored the plight of a man who was bloodied and lying on the street.
Lecrae challenged us as family in faith to not make the same mistake that the religious community made in the Parable of the Good Samaritan. I knew what he was referring to. Sadly, instead of coming together, in recent years I've been watching the divide between black and white Christians get largely wider, mirroring the divisions within our country.
The problem is Christians are supposed to exhibit unity in the beauty of diversity, to be a shining city on a hill that draws in members of a puzzled society, where racial reconciliation is not an aspirational idea but a reality.
As evangelical Christians, we tend to be outspoken about certain issues, issues where rightly, our faith collides with our culture. We speak up about the plight of the unborn, we raise our voices and our votes when we fear religious freedom is under threat, and it's time we be as outspoken about the reality of racism and racial injustice in America. It's time we acknowledge the overt and subtle racial prejudices that continue to permeate our society.
The recent rash of national headlines ranging from a black man getting murdered for going jogging to a black birdwatcher having the cops called on him for no reason but asking a white woman to have her dog leashed (which was required in that part of the park), to the absolute horror of George Floyd's death on a video which went viral, all may sound like these occurred during the height of the Civil Rights era, but they happened in 2020 America.
The way all these men were treated illustrates the dehumanizing that harboring a racist mindset inevitably leads to, where we no longer see someone with a darker skin tone as sacredly, fearfully and wonderfully made in the image of God. Racism and racial injustice has existed since the dawn of time, but has persistently been a stain on America's ideals, and we can no longer act as though we are past this, or it's no longer a major problem. The first step to solving a problem is recognizing there is one, and yes, racism and racial injustice remains a major problem. We can be part of the solution.
Click here to read more.
SOURCE: Christian Post, Stephen Mitchell