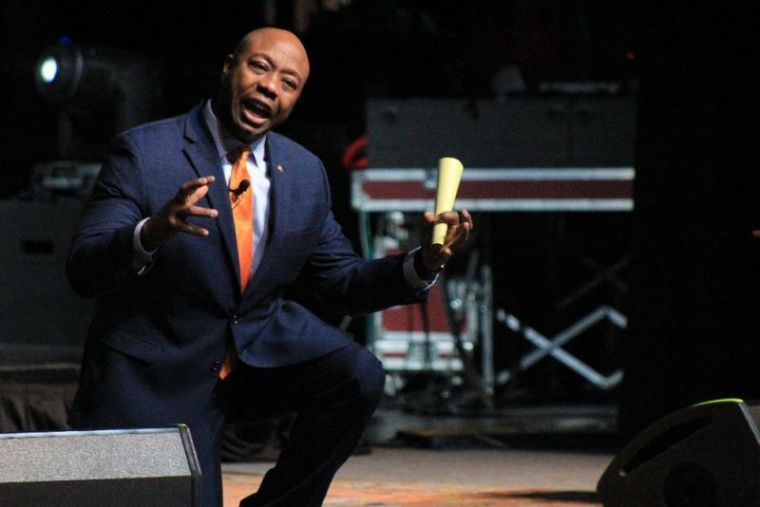 South Carolina Sen. Tim Scott called on churchgoers and police officers nationwide to take a stand against "bad apples" in their communities while chatting with Dr. James Dobson to discuss the unrest in the U.S. following the death of George Floyd. 
Scott, a 54-year-old Christian and Republican, joined the 84-year-old Christian psychologist for an episode of Dr. James Dobson's Family Talk radio program Wednesday as days of protests and violence have hit cities nationwide, leading to 17 deaths in riots and over 300 officers injured.
After videos of Floyd's neck being pinned down by a Minneapolis police officer surfaced before he became unresponsive and eventually died, it drove many Americans to hit the streets of their towns and cities to call for racial justice and an end to police brutality.
Touching on the issue, Scott told Dobson that it's impossible to begin the conversation without first acknowledging that the trigger for the protests has been another "senseless death of an African American man at the hands of the police."
"That has been an unfortunate reality for all of my life, I've been watching this unfold," Scott said. "This time with video; it brings a new level of validation to the cries of so many people within the African American community."
Both Dobson and Scott agreed that people must separate the actions of the violent rioters from the intent of those who peacefully protest. Dobson asked the senator how valid he found protesters' complaints about police brutality in America.
"Now, I would say there's a complicated relationship between law enforcement officers and the African American community, and communities of color," Scott said. "Having the chance to talk with so many folks, and then having lived through seven stops, as an African American driving a car, by law enforcement officers. As an elected official being stopped by law enforcement officers, as a United States Senator trying to enter into the Senate buildings, wearing my Senate pin, they just didn't believe me."
Click here to read more.
SOURCE: Christian Post, Samuel Smith