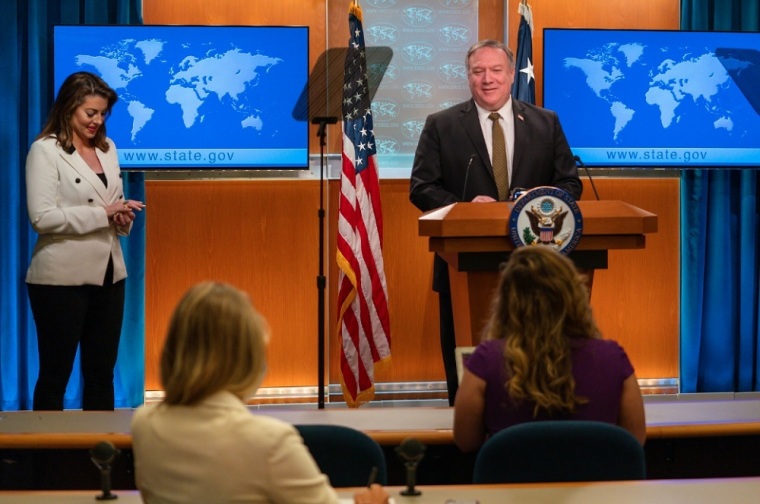 Secretary of State Mike Pompeo responded to China's accusation that the United States has "double standards" when it comes to protests, noting that the communist nation doesn't allow free speech and it imprisons religious minorities, unlike the U.S. 
A spokesperson for China's communist government denounced the U.S. for supporting Hong Kong protesters and then said the U.S. has a double standard because some police officers have used force against protesters and journalists in the wake of George Floyd's death. Pompeo countered the argument by emphasizing that the contrast between the two countries couldn't be "more clear."
In a press conference Wednesday during the rollout of the State Department's annual international religious freedom report, Pompeo decried China's "obscene attempts to take advantage of our domestic situation to press their political agenda."
"There is no equivalence between our two forms of government," Pompeo said. "We have the rule of law; China does not. We have free speech and embrace peaceful protest. They don't. We defend religious freedom; as I just noted, China continues its decadeslong war on faith."
Last week, a spokesperson for China claimed that the U.S. is beautifying "violent protests" for Hong Kong's autonomy from mainland China while the U.S. also "calls its own people protesting against racial discrimination 'rioters.'"
"Why does the U.S. point fingers at the constrained law enforcement by Hong Kong police but turn a blind eye to what happens at home while using shooting and even the National Guard against the protesters?" Zhao Lijian, a spokesperson for the Chinese Ministry of Foreign Affairs, was quoted as saying during a press briefing last week.
Hua Chunying, another ministry spokesperson, mocked a tweet sent out by State Department spokesperson Morgan Ortagus in support of the Hong Kong protests.
Chunying responded to Ortagus' tweet on May 30 by tweeting the phrase "I can't breathe," the words uttered by Floyd before he died with his neck pressed to the pavement by the knee of a Minneapolis police officer on Memorial Day.
In a press briefing, Chunying pointed to an article by The Guardian that cites data compiled by the investigative journalist website Bellingcat to report that there have been over 148 instances of police violence against journalists between May 26 and June 2 in the U.S.
Given China's record on human rights, Pompeo responded by telling reporters that the contrast between the U.S. and China "couldn't be more clear."
Click here to read more.
SOURCE: Christian Post, Samuel Smith