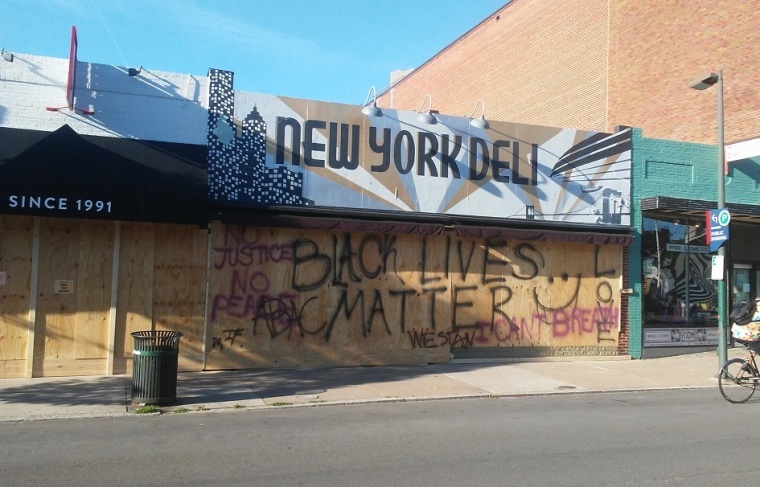 On Saturday, SpaceX and NASA, in a remarkable achievement, sent astronauts to the International Space Station. We cheered their success, but the timing, juxtaposed beside the horrific murder of George Floyd, protests by so many disillusioned and hurting Americans, and repeated nights of lawlessness that left cities across America looted and burned, was more than a little strange.
Think about it. We can go to space. We can instantly communicate with anyone anywhere in the world. We might even develop a treatment for COVID-19. It's amazing what humans can do. And yet, and yet, we are, by any objective measure, a nation barely holding itself together. Our best scientific achievements and our brightest technological innovations offer no solutions for our deepest divisions or our most serious problems.
Though no one who witnessed the scope and scale of the chaos this weekend could conclude "all is OK," there are indicators everywhere that our nation's health is worse than we're willing to admit. We are what Aleksandr Solzhenitsyn called, in his famous 1978 Harvard University commencement speech, "a world split apart." Like his audience that day, we too risk underestimating just how deep the fissures are.
For example, the initial condemnation of George Floyd's killing was bipartisan and unequivocal by both right and left, but since is increasingly seen through, and being greatly distorted by, our political lenses. Solzhenitsyn warned against thinking "the danger (of the Cold War) could be abolished through successful diplomatic negotiations" alone.
Well, neither can politics alone, much less increased state force alone, calm this perfect storm of a long history of racial grievance, a slow-moving and often malfunctioning justice system, misguided social justice warriors, and extremist agitators and opportunists, all swirling together within a nation on edge from weeks of social isolation.
Christians must not run for political or ideological corners. To the best of our ability, we must affirm all truths, even those hard to swallow, and we must deny all lies, even the ones that are politically expedient.
For example, even if the story is wrongly told, America still faces whirlwind-intense consequences from her "original sin." Though current economic, political, and social conditions for the African American community is light years ahead of, say, 1863 or even 1963, American slavery was especially evil in ways that still poison today.
Click here to read more.
SOURCE: Christian Post, John Stonestreet