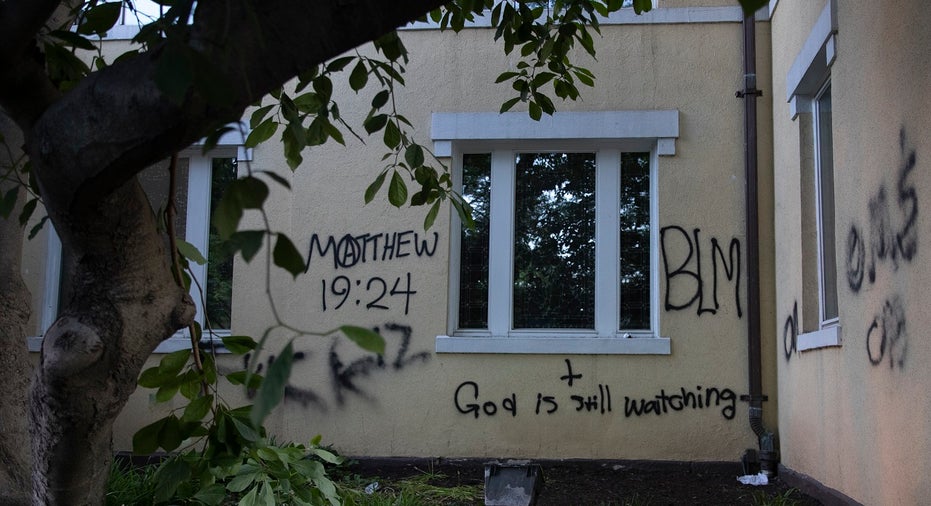 The historic St. John's Episcopal Church in Washington, D.C., was vandalized Monday night as protesters attempted to set up a "Black House Autonomous Zone" while a similar area in Seattle is set to be gradually dismantled.
Amid ongoing demonstrations around the country that have involved the desecration of monuments and the toppling of statues of historical figures in major cities, the pillars of St. John's Church were spray-painted by protesters to display the letters "BHAZ," video footage shows.
In the wake nationwide protests spurred by the police-involved death of George Floyd in Minneapolis, Minnesota, riots in Washington led to the torching of a basement nursery at the historic church, which is sometimes referred to as the "church of the presidents."
The following day, President Donald Trump and a few cabinet officials walked from the White House to the church where he held up a Bible. Supporters of the president saw the move as a sign of strength during a tumultuous time, while his detractors considered it an inappropriate and exploitative photo-op.
Monday night's church vandalism occurred alongside an unsuccessful attempt at tearing down a statue of Andrew Jackson in Lafayette Park. Metropolitan Police officers intervened before it could be toppled. And police subsequently established a perimeter around the demonstrators at the historic church.
"There will never be an 'Autonomous Zone' in Washington, D.C., as long as I'm your President. If they try they will be met with serious force!" Trump tweeted Tuesday morning. Twitter subsequently labeled the tweet to be a violation of its user rules.
On Monday, the president commented on Twitter about the vandalism in Lafayette Park, warning rioters that vandalizing monuments on federal property is a federal crime.
Click here to read more.
SOURCE: Christian Post, Brandon Showalter