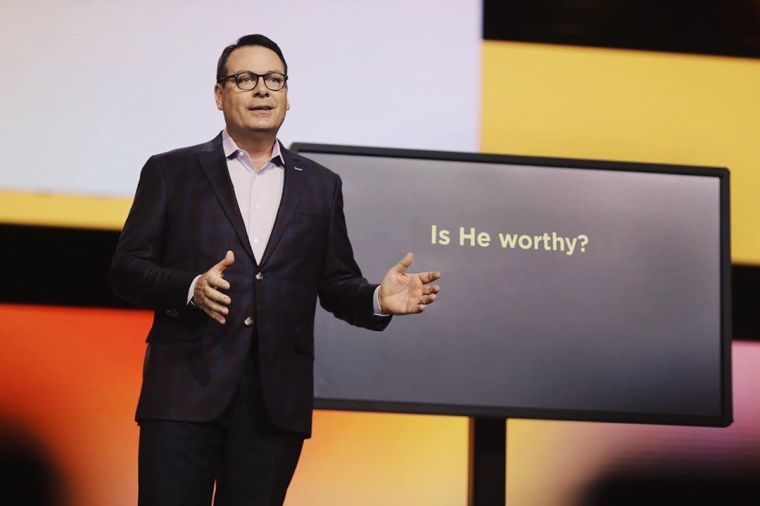 Two weeks after he was accused of liking racially insensitive posts on social media, Pastor Chris Hodges of Church of the Highlands in Alabama told his congregation Sunday that he has cried "buckets" since then and is now a changed man since the controversy erupted.
"It's hard to explain your own journey … I am not the same Chris Hodges I was two weeks ago. Do I have a long way to go? Yes, sir. But I can look you in the eye and say, I've been tested, stripped, disciplined, broken. I cry two times a year, and usually with a movie," he said laughing uneasily in his message, titled "Becoming One."
"I have buckets for days, buckets. I know it's really been one of the most painful things I've ever been through in my life and I know God is disciplining me, breaking me. A broken and a contrite heart is the pathway to the presence and anointing of God," he explained about the journey he has walked in the last two weeks, which involved conversations with four black leaders on his church's pastoral staff.
Hodges' message of repentance and the need for true racial reconciliation came days after the Housing Authority of the Birmingham District and the Birmingham Board of Education cut ties with Church of the Highlands, the largest church in Alabama, due to reports that he followed and liked several social media posts of Turning Point USA leader Charlie Kirk in the wake of national protests over the killing of 46-year-old African American George Floyd by Minneapolis Police Department officers on Memorial Day.
One of the posts shows two photos — one featuring President Donald Trump standing next to Muhammad Ali and Rosa Parks with the caption "The racist Donald Trump in the 1980s," and the other featuring Democratic Virginia Gov. Ralph Northam with two men wearing blackface and a KKK costume with the caption "Progressive Leftist Ralph Northam in the 1980s." Another post says, "We all must do our part to defeat China Virus."
Hodges previously apologized to his predominantly white but racially diverse congregation but on Sunday, he argued that God was using the coronavirus pandemic as well as Floyd's death to force America to confront its racism.
Being quarantined, he said, helped "soften" people to receive the message behind Floyd's death.
Click here to read more.
SOURCE: Christian Post, Leonardo Blair