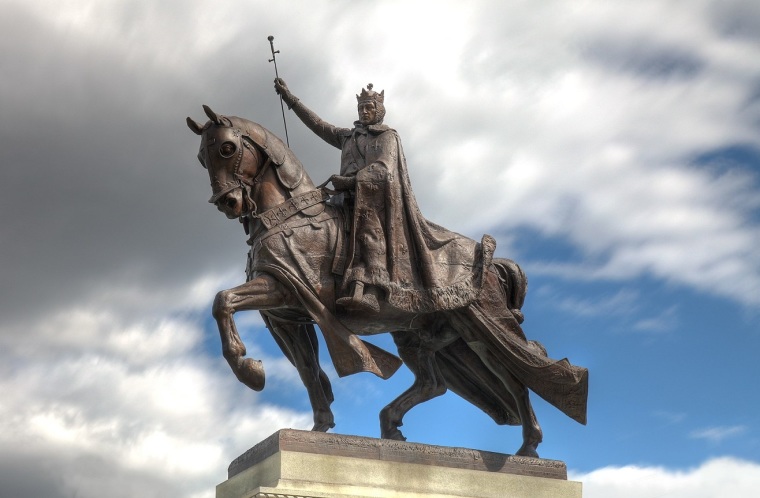 The Archdiocese of St. Louis in Missouri defended the statue of King Louis IX of France located in front of St. Louis Art Museum in Forest Park as praying Catholics clashed with protesters seeking to tear it down because the king persecuted Jews.
A change.org petition seeking to change the name of St. Louis the city and remove the king's statue says since the killing of Michael Brown in Ferguson, America has been undergoing a new civil rights movement which includes removing the statues of "racists, slave masters, and Confederates from public spaces."
"In 2017 St. Louis removed the Confederate Monument in Forest Park after protests. In 2020 the statue of Christopher Columbus was removed from Tower Grove Park. It is now time for St. Louis to take the bold step to remove the statue of King Louis IX from Forest Park and rename the city," it says.
"For those unfamiliar with King Louis IX he was a rabid anti-semite who spearheaded many persecutions against the Jewish people. Centuries later Nazi Germany gained inspiration and ideas from Louis IX as they embarked on a campaign of murderous genocide against the Jewish people. Louis IX was also vehemently Islamophobic and led a murderous crusade against Muslims which ultimately cost him his life."
The petition, which had nearly 1,000 required signatures as of Monday evening, argues that naming the city after the king while keeping a monument to him is disrespectful to both Muslims and Jews.
Louis IX is the only king of France to be canonized in the Catholic Church. The devoted Catholic once ordered the burning of some 12,000 manuscript copies of the Talmud and other Jewish books.
In a statement on Sunday, the Archdiocese of St. Louis defended the king as a saint who reverenced God and did much to care for the poor.
Click here to read more.
SOURCE: Christian Post, Leonardo Blair