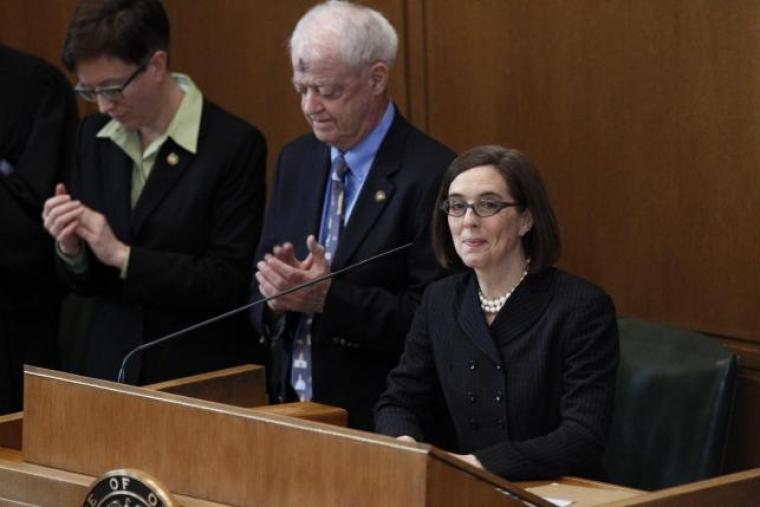 Two churches have filed a lawsuit against Oregon Governor Katherine Brown over an executive order that prohibits religious gatherings of more than 25 people.
Edgewater Christian Fellowship and Roseburg Church of God of Prophecy want to reopen by Pentecost Sunday, which is May 31.
Earlier this month, Brown issued Executive Order 20-25, which rescinded some of the in-person gathering restrictions enacted to curb the spread of the coronavirus.
The executive order maintained a ban on all "cultural, civic, and faith-based gatherings of more than 25 people" while still exempting entities like workplaces, schools, and grocery stores. Any violation of the order can result in 30 days in jail and a $1,250 fine, with the order being in effect at the discretion of the governor and lacking a specific expiration date.
According to the lawsuit, filed Tuesday against Brown over the order in U.S. District Court for the District of Oregon, both churches have complied with earlier state restrictions on in-person worship since March but the ongoing ban "substantially burdens" them.
"Plaintiffs sincerely believe that the Bible teaches the necessity of gathering together for corporate prayer and worship and that such assembly is necessary and good for the Church and its members' spiritual growth," says the complaint.
The churches and their pastors are being represented by the Alliance Defending Freedom, a conservative law firm that specializes in religious liberty cases.
Click here to read more.
SOURCE: Christian Post, Michael Gryboski