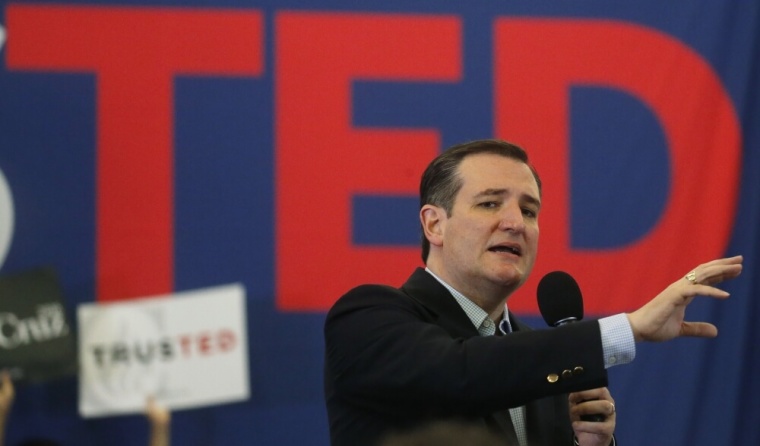 Sen. Ted Cruz of Texas on Thursday said that progressive elected officials who are  issuing orders to curb the spread of COVID-19 that restrict churches but not secular entities do so because they "hate faith."
On an episode of "First Liberty Live!" streamed online by the First Liberty Institute on Thursday, Cruz spoke about constitutional rights and states' lockdown orders that were initially put in place to ensure hospitals were not overwhelmed with COVID-19 patients but have been extended by some state governors and mayors.
Cruz said he believed "crisis reveals character" and as a result, Americans were seeing some politicians act as "jack-booted authoritarians" by going after religious groups.
"It's one thing to put reasonable public health restrictions in place, it's another thing to arbitrarily trample on liberty," Cruz said.
The senator argued that "there are these politicians on the left who hate faith, who have a demonstrable antipathy to people of faith, to Christians, to observant Jews, to anyone for whom faith is anything real and tangible in their lives."
He cited as an example New York City Mayor Bill de Blasio and his controversial comments in which he said he would permanently close down any church found in violation of the city's gathering restrictions.
"[De Blasio] repeatedly has demonstrated an over-eagerness, a zealousness to target people of faith," Cruz said.
"No tin-pot mayor has the power to permanently close down any church or any synagogue, and the fact that they are licking their lips trying to put a padlock on the church demonstrates that level of antipathy."
Cruz also defended drive-in church, in which congregations gather in parked cars practicing social distancing in worship, denouncing the efforts of some to close such services down.
In Massena, New York, Pastor Samson Ryman was warned that he would face a fine of up to $1,000 for holding a drive-in church service on May 3 with 23 worshipers in 18 vehicles, which the chief of police said was a violation of Gov. Andrew Cuomo's COVID-19 Executive Orders. Last week, Cuomo said churches can begin hosting drive-in worship services as long as they follow "strict social distancing guidelines."
Click here to read more.
SOURCE: Christian Post, Michael Gryboski