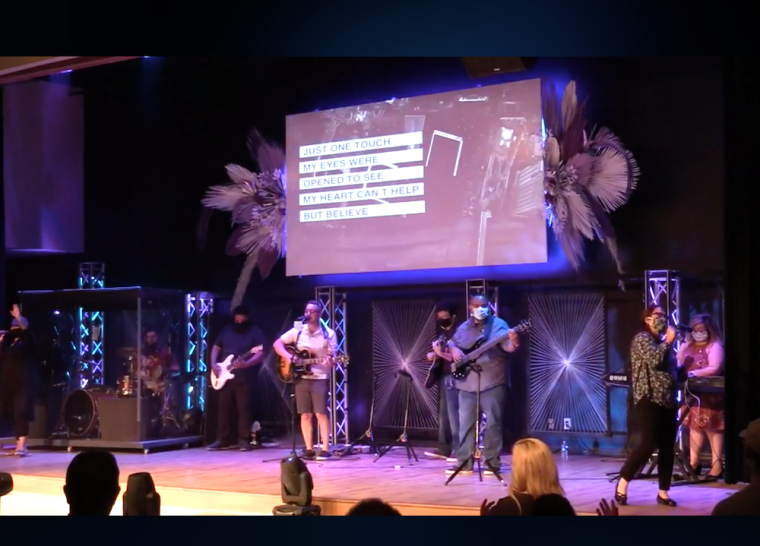 At Champion Church in Yuma, Arizona, congregants and leaders donned a variety of face masks as they celebrated being back together inside their sanctuary for the first time in six weeks on Sunday.
"I don't know about you, I can't speak for you but I can speak for myself. I appreciate the church," Lead Pastor Stephen Bloomfield told attendees in his sermon. "If you want to find out the value of something, just have it taken away. You know, you're just tired of your marriage, well let's see how you do without it for six weeks."
Champion Church's reopening coincided with a national Reopen Church effort being spearheaded by Christian advocacy organization Liberty Counsel. The group called on churches to open and urged Christians to start meeting again on Sunday, May 3, which is also the beginning of the National Day of Prayer week, which culminates on Thursday. And many churches across the country resumed in-person services on Sunday with precautions.
Arizona residents had been ordered to shelter in place beginning March 31. Gov. Doug Ducey announced last week that he would extend the state's stay-at-home order to May 15 with some changes aimed at slowly reopening Arizona's economy. Churches, however, got some relief when the office of Arizona Attorney General Mark Brnovich advised that "attendance at a church service is an 'essential activity,'" under an executive order put into place by Ducey.
"When we got the word that we could actually come back inside … Everybody was jumping up and down, we were so incredibly thankful," Polly Aitken, who has attended Champion Church for 10 years, told Fox 9.
Bloomfield and his congregants had been conducting drive-thru and online services in the church's parking lot since the shelter in place order became effective so returning to their sanctuary for worship was a major milestone. And at the 10 a.m. service on Sunday, there weren't many empty seats, Fox 9 reported.
"We're just really, really, blessed that we have this opportunity to open back up to the community and be everything God has called us to be, to just really uplift people's spirits, to bring hope — that's what it's truly all about," LaCinda Bloomfield, the pastor's wife and also lead pastor, said.
Click here to read more.
SOURCE: Christian Post, Leonardo Blair