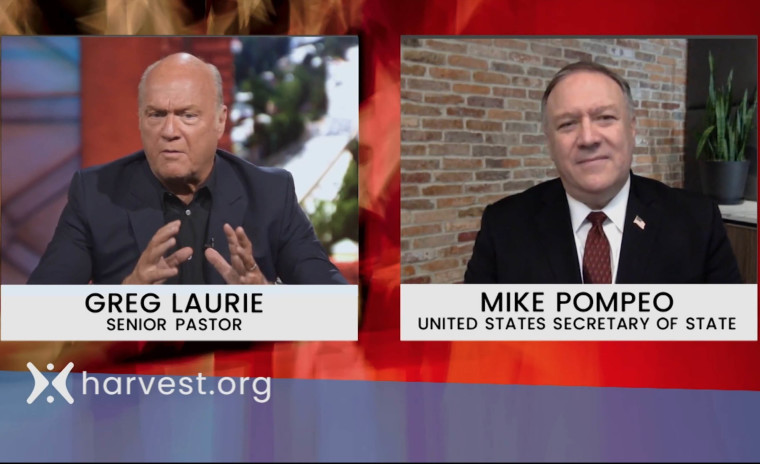 In an interview with Pastor Greg Laurie of the California megachurch Harvest Christian Fellowship, Secretary of State Mike Pompeo said he reads two books each morning — the Bible and the day's intelligence report about threats to Americans at home and around the world. Juxtaposing the two, he shared, is difficult.
"I manage to synthesize them … knowing that the Lord gives me the capacity to work, to be diligent," Pompeo said in the pre-recorded interview that was featured Sunday. "I hope He'll give me the wisdom and the perseverance to meet these challenges head-on in a way that protects the American people."
The secretary of state said he goes back to that most important book every day "and remind myself that the Lord is looking out over this world … The Lord is watching us."
He said whenever he's stressed or preparing for a meeting, he's confident that the Lord is watching over everyone in the room.
In his sermon on Sunday, Pastor Laurie addressed the question: "Is coronavirus a sign of the End Times?"
We can feel the fear, the anxiety and the stress, he said. All the news stories are about COVID-19, and new words have entered our vocabulary: pandemic, sheltering in place, self-isolation, social distancing, community spread, herd immunity … and plagues.
Plagues, Laurie said, will increase when the End is near, according to the Bible.
To suggest that God expects believers to know when the time is near, the pastor read Matthew 16:1-3, which reads, "The Pharisees and Sadducees came to Jesus and tested him by asking him to show them a sign from heaven. He replied, 'When evening comes, you say, 'It will be fair weather, for the sky is red,' and in the morning, 'Today it will be stormy, for the sky is red and overcast.' You know how to interpret the appearance of the sky, but you cannot interpret the signs of the times.'"
He quoted a recent national poll: "A stunning 43 percent of poll respondents said they believe the coronavirus and resulting economic meltdown is a wake-up call for us to turn back to faith in God."
It is a wake-up call, he stressed.
Click here to read more.
SOURCE: Christian Post, Anugrah Kumar