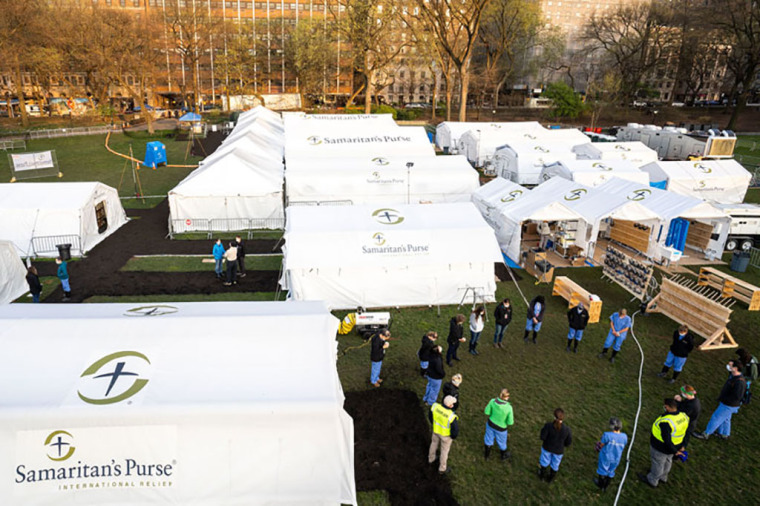 Gov. Andrew Cuomo is asking Samaritan's Purse to pay state taxes after the Christian humanitarian organization discharged its last patient this week — one of the over 300 COVID-19 patients it treated at a temporary hospital in New York City's Central Park while facing a backlash due to its statement of faith.
"We're not in a position to provide any subsidies right now because we have a $13 billion deficit," Cuomo said at a daily press briefing this week, Fox News reported Friday.
According to a New York state law, anyone working in the state for more than 14 days has to pay income tax, but organizations and healthcare workers came to the state to help fight the novel coronavirus outbreak at its epicenter after an appeal by the state government seeking assistance.
"So there's a lot of good things I'd like to do, and if we get federal funding, we can do, but it would be irresponsible for me to sit here looking at a $13 billion deficit and say I'm gonna spend more money, when I can't even pay the essential services," Cuomo said.
The Samaritan's Purse 68-bed field hospital treated 315 patients since opening on April 1 adjacent to Mount Sinai Hospital in Central Park's East Meadow to help meet the needs of local hospitals that were facing an unprecedented wave of sick patients.
While the Rev. Franklin Graham, who heads Samaritan's Purse, hasn't responded directly to Cuomo's statement, he has said that his group was invited to NYC by Mount Sinai.
"They're the ones who called us originally. We didn't call them; they called us," Graham told Faithwire. "And we agreed to go and we have not charged them one penny. All of our services have been paid by God's people."
Click here to read more.
SOURCE: Christian Post, Anugrah Kumar