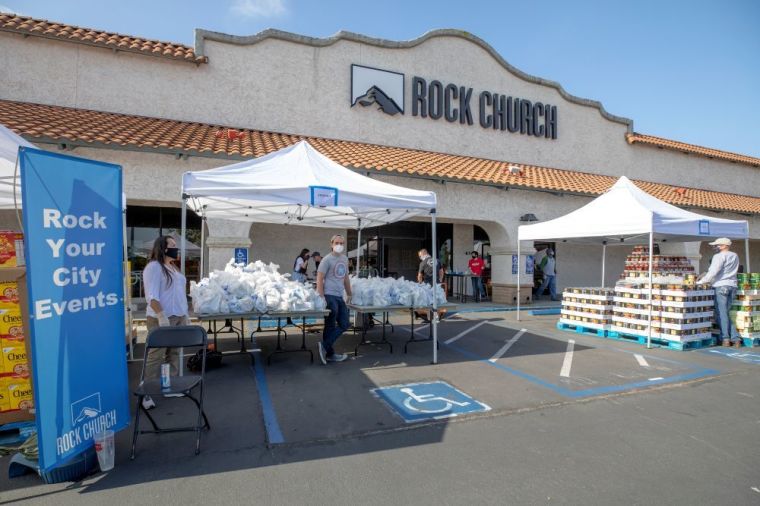 Many churches across the United States are partnering with local organizations to provide food to hundreds of people in need in their communities as the coronavirus pandemic has caused economic hardship and food insecurity for many families. 
The five-campus Rock Church in Southern California partnered with local support groups and the city of El Cajon to distribute over $44,500 in groceries to hundreds in the San Diego suburb who are in need.
Last Saturday, Rock Church's East County Campus hosted a drive-through style food-and-grocery distribution that ran from 9 a.m. to 1 p.m.
The distribution event allowed partner organizations to pick up grocery items to be delivered to residents deemed "most vulnerable and at-risk during the COVID-19 crisis."
The Rock Church distribution was funded by the city in partnership with local nonprofits Home of Guiding Hands and Step Into Success. The effort resulted in the distribution of 48,000 pounds of groceries to 445 households, according to an announcement from the church.
"Saturday was a very special day! It was such an honor to partner with the Rock Church to distribute food to people in need in the Community of El Cajon," Mayor Bill Wells said in a statement. "We are thankful for The Rock Church, Pastor Miles and Pastor Greg Hendricks and his team for collaborating with the city of El Cajon to help serve the needs of people in our community."
Rock Church partnered with an organization called 2-1-1 San Diego, which provides data and trend information for proactive community planning, to help the church gain a better understanding of the people most in need of food and grocery items in the area.
Click here to read more.
SOURCE: Christian Post, Samuel Smith