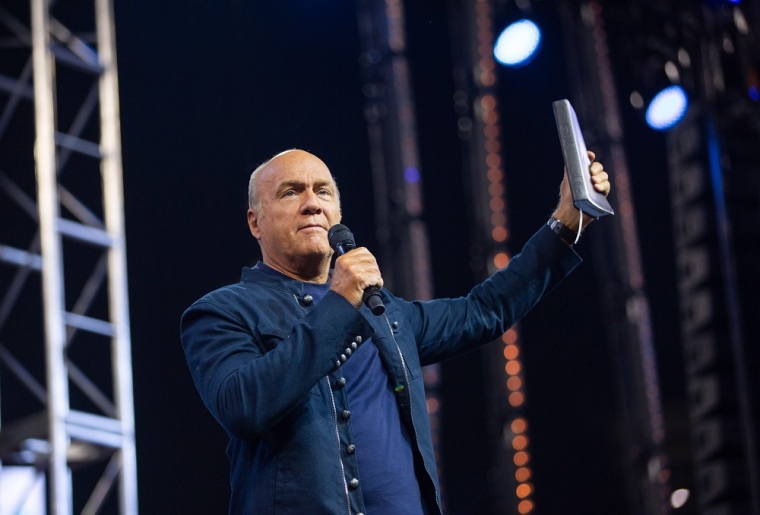 Pastor Greg Laurie's Harvest Church and many other California's megachurches are reopening on Pentecost Sunday with detailed plans to keep their congregations safe from COVID-19. But others, including Pastor Rick Warren's Saddleback Church, say they will wait for conditions to improve before resuming large gatherings.
"Harvest Church will officially be reopening its doors on Sunday, May 31 for a very special worship service!" Harvest Church says on its website, which adds that a maximum of 100 people will be able to attend per location even as the church utilizes all its facilities, including outdoor spaces.
Laurie is giving a special message and host Christian musician Phil Wickham as a special guest artist.
"We strongly encourage everyone to wear masks while on campus … We will have hand sanitization stations at various locations around campus," the Southern California megachurch says.
The Church United network, which has around 3,000 churches representing 2.5 million members in California, has announced its intentions to reopen.
Pastor Warren, author of The Purpose Driven Life, released a video message saying Saddleback Church in Orange County will remain closed.
He said the state government has outlined four phases of reopening as the pandemic subsides. The state has released 12 pages of instructions that churches must follow exactly, to open places of worship during phase two, he noted.
The rules, he added, are unworkable for all churches, especially for large churches like Saddleback. For example, no church, irrespective of its size, may not have more than 100 people in attendance. This would mean, he points out, only 2,000 of the 30,000 members of Saddleback could attend.
Recently released guidelines in the state allow churches to gather but only at 25% capacity or with 100 people (whichever is lower).
"While we're all eager to gather together for worship, we have decided for many important reasons that Saddleback is going to be patient and we're going to wait for better conditions before we resume our large, public gatherings," Warren said.
Click here to read more.
SOURCE: Christian Post, Anugrah Kumar