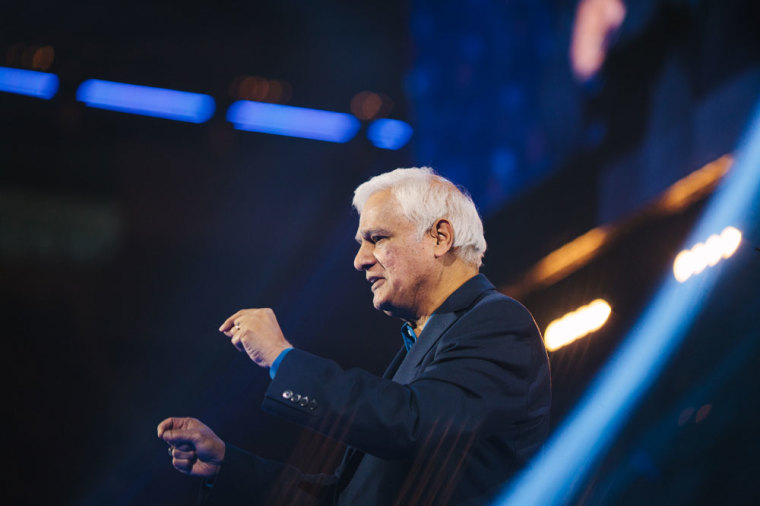 Ravi Zacharias, the prominent Christian apologetics author and speaker, died Tuesday at the age of 74 following a battle with a rare form of cancer.
Zacharias' daughter, Sarah Davis, posted a message on the website of Ravi Zacharias International Ministries on Tuesday, titled "Ravi Zacharias, Now With Jesus," confirming that the apologist had passed away.
"It was his Savior, Jesus Christ, that my dad always wanted most to talk about. Even in his final days, until he lacked the energy and breath to speak, he turned every conversation to Jesus and what the Lord had done," she wrote.
"He perpetually marveled that God took a seventeen-year-old skeptic, defeated in hopelessness and unbelief, and called him into a life of glorious hope and belief in the truth of Scripture—a message he would carry across the globe for 48 years."
Davis noted that details about a public memorial for her father were pending, with a request added that those interested in sending flowers instead give to the work of RZIM.
"Today my beautiful father is more alive than he has ever been. We thank God for him and recommit our lives to sharing this truth with all who will hear, until He calls us to our eternal home," Davis added.
Background
Zacharias was born on March 26, 1946, in India. While raised in a Christian home, Zacharias considered himself a religious skeptic until age 17 following a suicide attempt.
While hospitalized following the attempt, Zacharias was visited by a Youth for Christ director who gave him a Bible. He heard the verse John 14:19 read: "Because I live, you also will live."
"This verse has become the cornerstone of Zacharias' ultimate mission as a Christian apologist and evangelist: to present and defend the truth of Jesus Christ that others may find life in Him," recounted Ravi Zacharias International Ministries.
"Zacharias' calling to preach was first confirmed when he was awarded the Asian Youth Preacher Award at the international Youth Congress in Hyderabad at the age of nineteen."
Apologetics
In 1980, Zacharias was ordained by the Christian and Missionary Alliance and founded Ravi Zacharias International Ministries in 1984. He launched an apologetics training center in 2017.
For its part, RZIM boasts 16 offices across the world and around 200 employees, which include 80 apologetics speakers, both in full-time and adjunct roles.
Zacharias was a prolific radio personality, having a weekly program called "Let My People Think" that was carried by an estimated 2,000 outlets in more than 30 countries.
He often gave apologetics speeches at universities, churches, and other gatherings across the United States and abroad, including in Eastern Europe following the fall of the Berlin Wall.
He also participated in the World Summit in Defense of Persecuted Christians in Washington, D.C., 2017; the National Prayer Breakfast in Ottawa, Canada in 2015; First Annual Prayer Breakfast for African Leaders, Mozambique in 2003; and Annual Prayer Breakfast at the United Nations, New York on multiple occasions.
Click here to read more.
SOURCE: Christian Post, Michael Gryboski