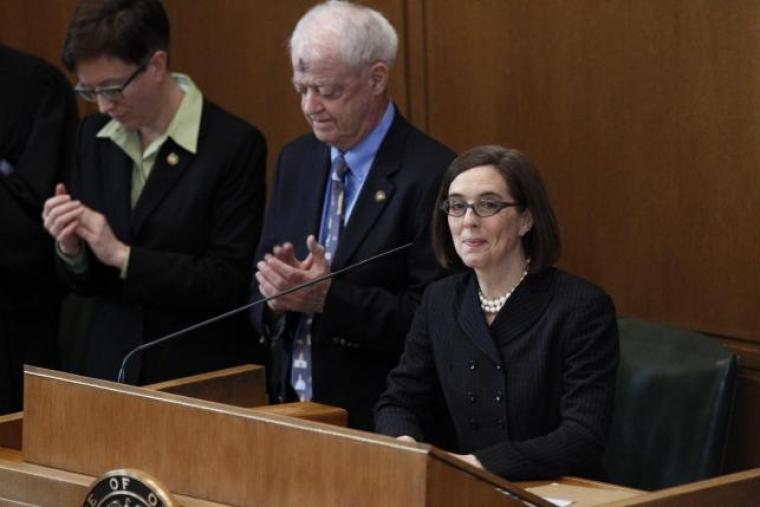 The Oregon Supreme Court granted an emergency motion Monday evening putting on hold a lower court's injunction earlier in the day granting churches statewide preliminary relief to Gov. Kate Brown's restrictions on mass gatherings and in-person worship.
Oregon Supreme Court Presiding Justice Thomas Balmer granted the motion per the request of Brown and other unnamed defendants hours after Baker County Circuit Judge Matthew Shirtcliff ruled in favor of the plaintiffs.
Balmer explained that the plaintiffs, which included 10 churches and ministries throughout the state led by Elkhorn Baptist Church of Baker City, had until Friday to submit responses to the defendants' petition.
"Following swift action by the Oregon Supreme Court, my emergency orders to protect the health and safety of Oregonians will remain in effect statewide while the court hears arguments in this lawsuit," Brown said in a statement.
"From the beginning of this crisis, I have worked within my authority, using science and data as my guide, heeding the advice of medical experts."
The court put a hold on Shirtcliff's ruling in which he concluded that Brown exceeded her authority by restricting business operations and worship services for more than the 28 days governors are allowed to do so under Oregon's health emergency law. Brown had extended the state of emergency until July 6 without approval from the state legislature.
The plaintiffs contend that the measures have harmed churches, businesses, private schools and other groups and individuals.
Under the first phase of the state's reopening plan, churches are allowed to gather with no more than 25 people present. But Shirtcliff also concluded that churches could hold worship services with over 25 people provided they follow the same social distancing guidelines as secular facilities, such as grocery stores and home improvement stores.
The Pacific Justice Institute, a legal group that provides pro-bono support on topics related to freedom of religion, filed the lawsuit earlier this month against Brown. On behalf of the plaintiffs, the group alleges that the governor's orders aimed at helping curb the spread of COVID-19 are unfairly violating the rights of churches.
Joined by the grassroots nonprofit Common Sense Oregon, PJI filed a motion requesting a temporary restraining order against the enforcement of the state restrictions on gatherings.
Click here to read more.
SOURCE: Christian Post, Michael Gryboski