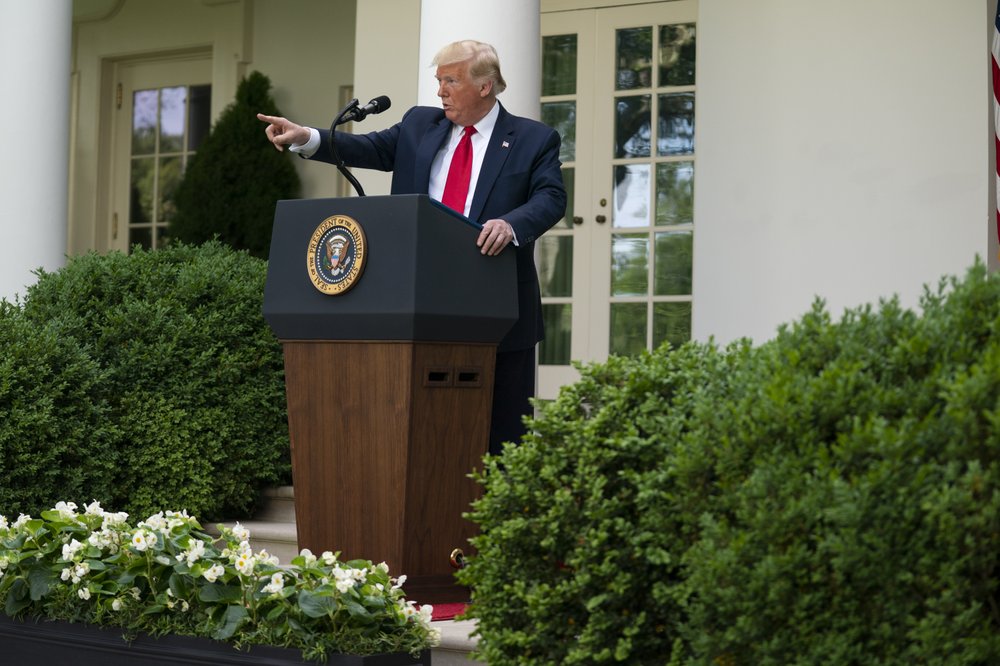 TOP OF THE HOUR:
— President Trump says to "always be safe" as country reopens.
— Pentagon says Army reservist dies of COVID-19.
— California gives the OK for hair salons in many areas to reopen.
— New York Gov. Andrew Cuomo says it's time to relaunch New York City's economy.
___
WASHINGTON — President Donald Trump had a message to offer those who crowded pools and boardwalks over the Memorial Day weekend, defying coronavirus social distancing guidelines: "Always be safe."
Trump did not criticize the images that flooded cable television airwaves during a Rose Garden event, saying only: "We're opening up, but you want to be safe."
Cases are still rising in some states.
Trump also maintained Tuesday, without explanation, that he "can absolutely" force governors to allow churches and other houses of worship across the country to reopen, saying he "will override any governor that wants to play games."
But he also said that pastors, rabbis and imams "don't want anyone getting hurt or sick" And he conceded that "there may be some areas" where religious leaders may "feel that it's not quite ready."
He said that's something he's OK with, as long as it's "the choice of the congregation and the pastor."
___
OLYMPIA, Wash. — The state of Washington is implementing safety recommendations to battle a large outbreak of the coronavirus in an agricultural county in the central part of the state.
Yakima County, a major food producer, has recorded nearly 3,000 cases among its 250,000 residents, and infections have moved into its massive farm and food processing sector. Officials said Tuesday that many cases are showing up on farms, in meat plants and fruit and vegetable processing warehouses, where many workers are immigrants.
The big increase in the county came as other parts of Washington are reporting shrinking numbers.
___
The Pentagon says an Army reservist from Wisconsin has died of COVID-19.
The name of the Army reservist and other details were not immediately released.
He is the third member of the U.S. military to die of the virus, and the first since the death in mid-April of a crew member of the USS Theodore Roosevelt aircraft carrier.
Officials said the reservist was not on active duty and not involved in coronavirus-related work for the military.
A New Jersey Army National Guard soldier in late March was the first member of the military to die of COVID-19. In all, 6,118 members of the military have been infected with the coronavirus, of which 3,460 have recovered, according to the Pentagon.
___
RALEIGH, N.C. — North Carolina Gov. Roy Cooper's administration has refused to give in to a Trump ultimatum for assurances about a full-capacity Republican National Convention.
Cooper's Democratic administration responded with a letter demanding a written safety plan from organizers of the event slated for August in Charlotte. Even local Republican officials note that Trump doesn't have the power to unilaterally move the event scheduled to start in 90 days after two years of planning.
State Health and Human Services Secretary Mandy Cohen's letter asks Republican convention organizers for a written COVID-19 safety plan "as soon as possible," noting that Cohen and Cooper discussed various scenarios with GOP officials by phone last Friday.
Cooper said discussions with RNC organizers are continuing.
___
RICHMOND, Va. — Gov. Ralph Northam is ordering that Virginians wear masks while in public indoor spaces, saying the measure is needed to help prevent the spread of the coronavirus.
Northam said at a news conference Tuesday that he's ordering masks be worn starting Friday inside all retail stores, while using public transportation, and in any other indoor places where people congregate.
Northam joins governors in several other states, including neighboring Maryland, who have issued similar requirements.
___
SACRAMENTO, Calif. — California Gov. Gavin Newsom says barbershops and hair salons can reopen immediately in counties that have been cleared to move faster on lifting coronavirus restrictions.
The governor's announcement Tuesday is part of an ongoing relaxation of orders intended to help prevent spread of COVID-19. The state's guidance says customers and workers in barbershops and salons must wear face coverings during hair-cutting and other close-contact services.
Forty-seven of California's 58 counties have been granted variances to state orders that allow them to move faster on reopening. Los Angeles County and San Francisco Bay Area counties are not among them.
___
Vermont is preparing to close some of the surge sites that were set up in case COVID-19 infections overwhelmed the state's hospitals.
WCAX-TV reports that pop-up sites, like the one at the Spartan Arena in Rutland, were designed for non-COVID patients in case hospitals became inundated with patients who did have the coronavirus. The Rutland site, which could handle 150 patients, was never used.
Human Services Secretary Mike Smith says the sites in Rutland, St. Albans, and Barre will be the first to close.
If conditions change, the sites could be reopened.
___
BATON ROUGE, La. — More than 1,800 students are living on university campuses around Louisiana, even though they've been taking classes online and have been encouraged to return home because of the COVID-19 pandemic, The Advocate report s.
The students include 650 at Louisiana State University, 310 at Louisiana Tech, 50-60 at Tulane University, six at Grambling State, and four at Northwestern State, and they have a wide variety of reasons for remaining.
The reasons given range from being from a state or country that's become a COVID-19 hotspot, to avoiding home because of abusive or drug-ridden families, officials say.
___
NEW YORK — Gov. Andrew Cuomo says it's time to focus on relaunching New York City's moribund economy after weeks of declining deaths and hospitalizations.
After ringing open the Stock Exchange, the Democratic governor laid out a plan that includes accelerating major infrastructure projects and tackling transmission of the new coronavirus in the hardest-hit neighborhoods.
The mid-Hudson Valley, including the city's northern suburbs, on Tuesday became the latest region of New York state to begin slowly phasing in economic activity. Long Island was expected to follow Wednesday, which would leave New York City as the only region awaiting the start of reopening.
Statewide hospitalization rates continue to decline with about 200 new cases a day. Cuomo reported a one-day total of 73 deaths, the lowest figure since March and down from a peak of nearly 800.
___
Source: Associated Press