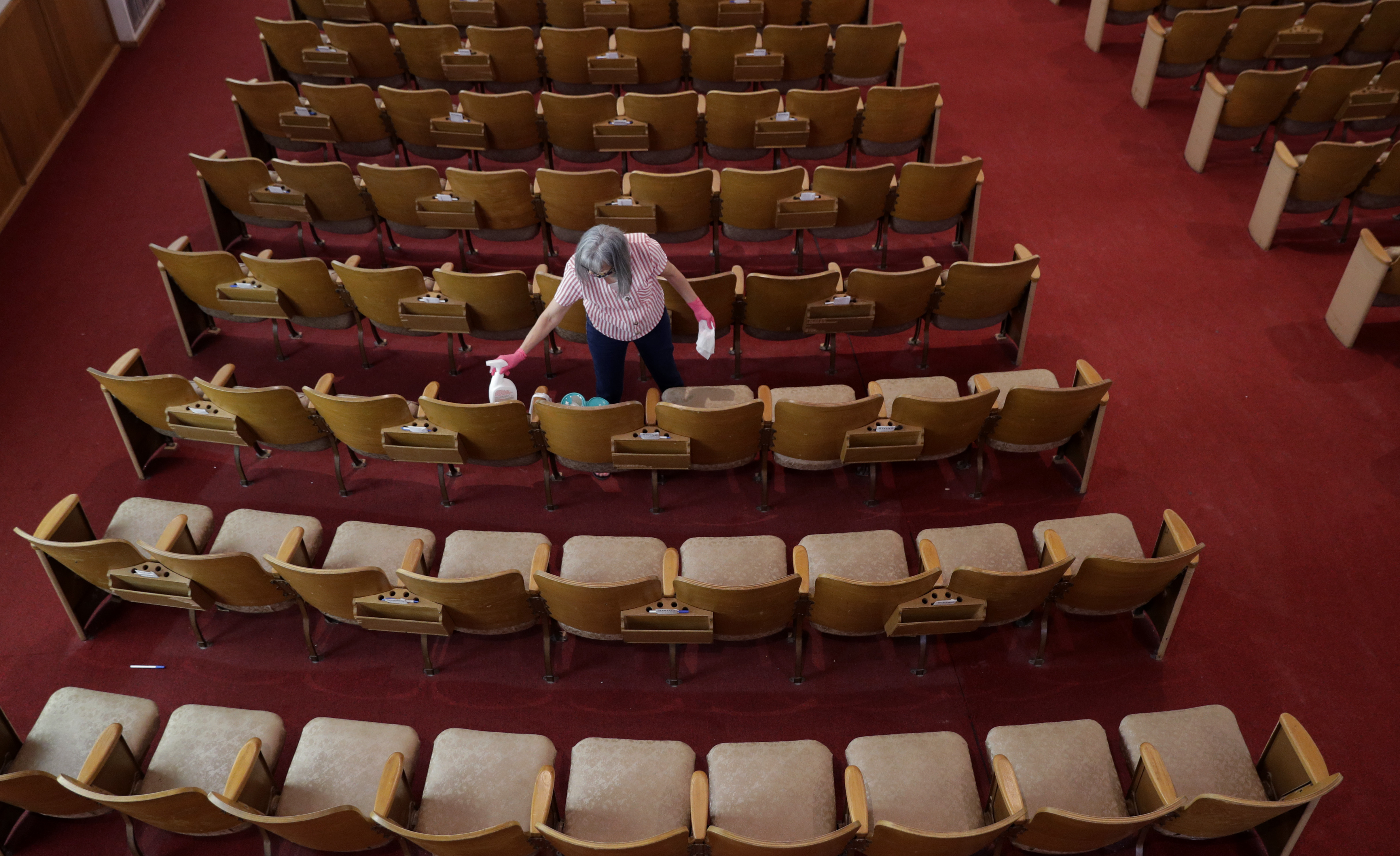 Members of seven predominantly black Baptist congregations in North Central West Virginia packed a small rural church March 15 with the threat still largely unknown.
Ninety to 120 people gathered after regular morning services at Friendship Baptist to mark the Rev. Laverna Horton's sixth anniversary at the church in Everettville, a rural community north of the Monongalia-Marion County line.
"Typically, black Baptist churches celebrate two major events each year," said the Rev. Rahsaan Armand, head pastor of Mount Zion Missionary Baptist Church in Clarksburg. "That's the church's anniversary and the pastor's anniversary. We go around and celebrate each one of those for each church."
Inside a church van that morning sat Laverna Horton's sister-in-law, Viola York Horton, 88, of Marion County, a choir member at Morning Star Baptist just outside downtown Fairmont. The church boasts one of the largest black congregations in North Central West Virginia.
Later that day, after Viola Horton and the Morning Star choir performed in the celebration in Everettville, the federal Centers for Disease Control and Prevention advised against gatherings of 50 or more people.
On the following day, Gov. Jim Justice declared a state of emergency.
Fourteen days later, Viola Horton was dead. She was the first West Virginian killed by COVID-19.
'THAT IS A STEREOTYPE'
Calls began streaming into the voicemail of Romelia Hodges, a Mount Zion member who attended the anniversary event with her 10-year-old daughter.
People were getting sick and didn't know what to do. Two attendees were hospitalized four days afterward, Hodges said. After five days, the number was up to five.
That included Viola Horton and minister Rick Hood, 62, described by churchgoers as Laverna Horton's right-hand man.
He died on Good Friday. He was Marion County's second coronavirus death.
Laverna Horton and her family called Hodges on March 20 asking her to get the word out on Facebook that people who attended the event were falling ill.
Hodges said she called Lloyd White, the administrator for the Marion County Health Department. Cooperation with health officials would be needed to trace the virus, White told Hodges.
Hodges said she would track down people using a photo taken at the event and by calling area pastors to seek a list of attendees. On conference calls with health officials and local pastors, White reiterated the need for cooperation.
"I specifically said what makes contact tracing effective, as well as any epidemiology work, is community communication and cooperation. Without that, it stops dead in the water," White said.
Hodges was irked.
"I said that is a stereotype," she said. "That's one of the major problems with the African American community and health care professionals that creates a distrust, is you always feel like we don't want to be bothered with health care officials, and that's not actually the case. I said we have a lot of people out here who are ill, who want to be tested and they don't know what to do. We need some direction."
White said that if people don't answer calls, health officials can't help.
Hodges' frustration grew as the virus spread. Calls to state legislators in Marion County went unreturned, she said. She turned to Delegate Danielle Walker, D-Monogalia, one of four black lawmakers in the state Legislature.
Tiffany Walker-Samuels, interim director of development at the West Virginia University Cancer Institute, phoned Hodges in response to her Facebook plea for help. Samuels' boss is Dr. Clay Marsh, WVU's vice president of health sciences and the state's coronavirus czar.
Hodges, Walker-Samuels and Walker sent a list of names April 2 to the Charleston office of Sen. Joe Manchin, D-W.Va. In response, everyone on the list was contacted and advised on where they could be tested, Manchin's staff said.
Meanwhile, the toll from COVID-19 mounted.
'LIKE BATTLING THE DEVIL HIMSELF'
Hodges' household felt the impact.
Her 10-year-old daughter recovered after being sick for a few days following the church event. The family thought it was a common cold, Hodges said. Still, they self-quarantined.
Two weeks after the event, Hodges said, she lost her sense of smell, among virus symptoms listed by the CDC. Her 16-year-old son began getting headaches, another symptom. Her 19-year-old son lost his sense of smell and taste. All recovered quickly.
Click here to read more.
Source: NBC Chicago