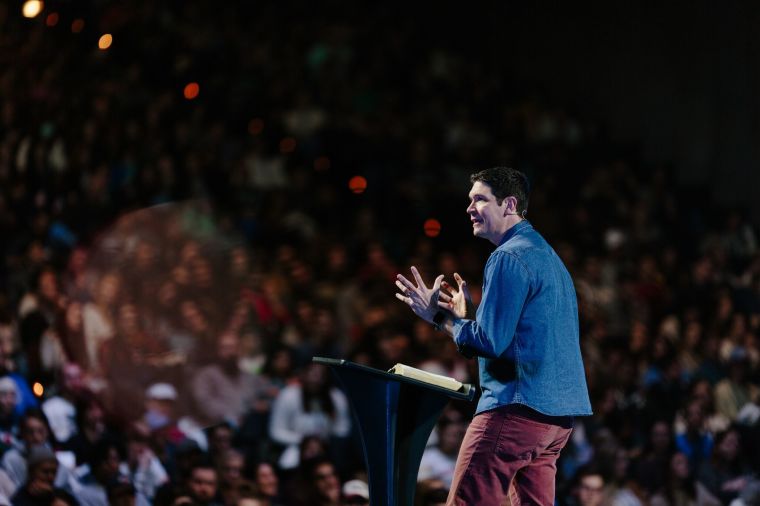 When the new coronavirus forced the shuttering of her church's in-person services in line with a stay-at-home order in March, Jeanne Stevens, lead pastor of Soul City Church in Chicago, grieved a little.
Her church was in the middle of a $9 million fundraising campaign and she had to change plans quickly.
"We were 10 days away from people making commitments," Stevens revealed during a recent virtual gathering of several prominent pastors in late April.
She said she paused the capital campaign and explained to her congregation why.
"In some ways we had to grieve that loss and grieve that change. I think it also was a beautiful invitation to our church and them seeing our leadership [to] have a willingness to really trust and listen to God and be willing to make a turn," Stevens said.
"I'm grateful that we did it. Grateful that we paused it. Grateful that we said, 'God you'll tell us when and if we are supposed to reengage this campaign.' When I do walk over to the church and I see all the vision guys and commitment cards, I just weep a little bit," she said with a slight chuckle.
Since the explosion of the coronavirus across the country, Stevens, along with several other megachurch pastors who were a part of the April meeting, say the pandemic has caused them to abruptly change the way they do church and plan for life in the wake of a virus whose trajectory still remains uncertain.
Research firm Barna Group released the results of a new survey conducted March 20 to April 27, showing how churches have been impacted by the coronavirus and how they are planning to reopen.
While some churches have already started reopening this month, most pastors (62%) forecast a June opening while some (46%) said it could be July or August before they open their sanctuaries to in-person services again.
A majority of the pastors in this study also noted that they were preparing to put significant precautions in place to reopen their churches. The most common precautions included asking people to avoid touching (77%); asking people to sit further apart (75%); and not passing an offering plate (53%). Some 84% of the pastors in the survey also confirmed that they planned to ask people who are feeling sick to stay home after social distancing requirements are lifted.
About one-third (32%) of leaders who are taking precautions said they would require congregants to wear a mask for any in-person services or church gatherings. Another 33% said they will not offer food and drink such as coffee and donuts when they return to in-person gatherings. A majority (87%) said they would also cancel mission trips for the remainder of the year.
"As a nation, we're looking at a situation from which there's 'no going back.' As a society, we will feel the impacts of the virus for a long, long time whether it's simply a heightened awareness of sanitation practices or a new sense of gratitude towards our community," David Kinnaman, president of Barna Group and author of the bestselling book Faith For Exiles, said in a statement.
"When it comes to the church, nearly every single pastor has had to adapt and to bring on new digital tools and resources for their congregation. I don't see those going away anytime soon. We've had this amazing opportunity to grow and evolve, and I think it's created stronger church ministries, restructured how we think about discipleship, and forever changed how we're measuring organizational impact," he added.
Along with changing her fundraising plans, Stevens has also had to change her messages to be more responsive to the needs of her congregants during the pandemic.
"We just started a series on how to win at waiting and a good friend of ours, [NBA player] Kyle Korver who plays for the Milwaukee Bucks [and] helped us start our church, he came in and we interviewed him … and talked about what does that feel like as a basketball player that was on a winning team that looked like they were going to the finals, how does that feel to have to wait now?" Stevens recalled.
"We got so much feedback [from] people who appreciated that conversation because all of us are waiting. And so for us to pay attention and not be tone deaf to what's happening in the world, I think our communities and our congregations are appreciating that our ears are open versus just saying, 'well, we have this series planned and we're just going for it anyways,'" she said.
While many pastors have been preaching to cameras inside empty auditoriums, Surratt explained that his multi-campus church in South Carolina shifted streaming sermons from inside an auditorium to a room that reflected a more intimate living room setup to mimic the environment from which many people are now engaging.
He also adjusted his teaching calendar and is now having fewer guest preachers to ensure that his congregants are hearing from him more frequently.
"We have 14 different campuses and I've been on zoom calls with each of those campuses. … Those are some of the things that I hope continue long after we go back to meeting. … There are ways that we can connect with our church that aren't as hard as they seemed like they would be now that everybody's been forced to live in this new reality," Surratt said. "We've got seniors groups that have learned how to do Zoom and they're making that happen. So the advantages are going to be that everybody's trained onto this technology so that we can do more with it when we go back to 'normal.'"
As many of these megachurch pastors wait to see what the end of the coronavirus pandemic will look like for their churches, they all agree that making the best use of technology to engage with their church has been more than a lifeline.
"We're just trying to maximize technology, trying to make the best of the online church experience, trying to do discipleship as best we can in this space," said Bryan Carter, senior pastor of Concord Church in Dallas, Texas. "I think we all realize, even when we get back to our venues there is an investment we made on this side that will help continue to grow and develop the Kingdom."
Click here to read more.
SOURCE: Christian Post, Leonardo Blair