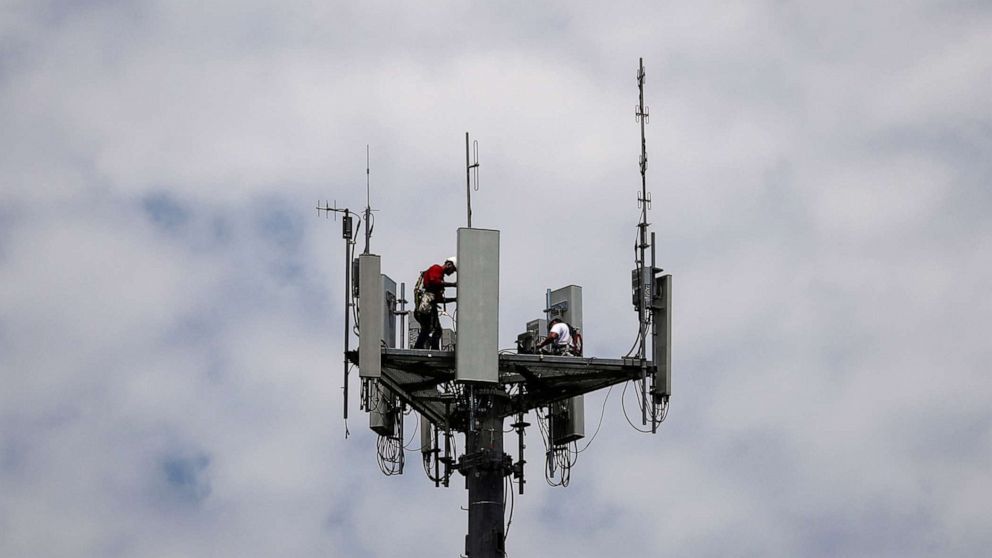 What started as a bizarre and bogus conspiracy theory involving the novel coronavirus in Britain has apparently crossed the Atlantic Ocean, U.S. law enforcement officials believe, and they are now increasingly worried about the possibility for real-world violence.
"We assess conspiracy theories linking the spread of COVID-19 to the expansion of the 5G cellular network are inciting attacks against the communications infrastructure globally and that these threats probably will increase as the disease continues to spread, including calls for violence against telecommunications workers," the U.S. Department of Homeland Security reported Wednesday in an intelligence report obtained by ABC News.
"Violent extremists have drawn from misinformation campaigns online that claim wireless infrastructure is deleterious to human health and helps spread COVID-19, resulting in a global effort by like-minded individuals to share operational guidance and justification for conducting attacks against 5G infrastructure, some of which have already prompted arson and physical attacks against cell towers in several US states," the report concluded.
The assessment was followed on Thursday by a joint intelligence bulletin issued by the FBI, DHS and the National Counterterrorism Center. Both documents were distributed to senior federal officials and law enforcement agencies around the country.
The federal officials who wrote the DHS analysis could not be more pointed about the seriousness of their concerns, saying the bulletin was "intended to highlight targeting and attacks globally against critical infrastructure during the COVID-19 pandemic and advise of online threats against critical infrastructure made by individuals including domestic violent extremists in the United States and others possibly driven by conspiracy theories. Critical infrastructure has been a longstanding target of (domestic terrorists) and current targeting observed appears to be focused primarily on locations associated with the (5G network) and the electric grid."
The conspiracy theory is totally bogus and has zero connection to legitimate science, according to numerous experts who have researched the question and have been interviewed by ABC News. Once confined to the fringe of the internet, the theory says coronavirus is caused or spread by 5G technology, which is being constructed throughout Western Europe and the US as a means of improving phone and computer communications.
Eileen Culloty, a researcher specializing in countering disinformation at Dublin City University, told ABC News last month that "theories about 5G have been around for years, but were mostly confined to the fringes… For some people, the dramatic upheaval of COVID-19 demands an equally dramatic explanation. That's the core appeal of a conspiracy theory — it reduces complexity and coincidence into a simple narrative and points at someone or something to blame."
Click here to read more.
SOURCE: ABC News, Josh Margolin