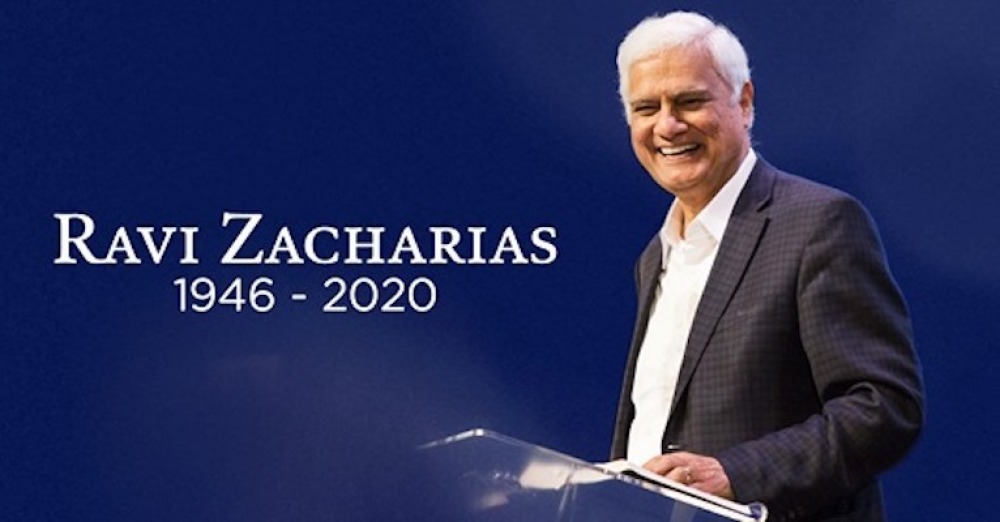 Christian leaders worldwide are paying tribute to Christian apologist, author and speaker, Ravi Zacharias, who died Tuesday from a rare form of cancer. He was 74. 
Zacharias' daughter, Sarah Davis, announced her father's passing in a post titled "Ravi Zacharias, Now With Jesus," on the Ravi Zacharias International Ministries' website.
"It was his Savior, Jesus Christ, that my dad always wanted most to talk about. Even in his final days, until he lacked the energy and breath to speak, he turned every conversation to Jesus and what the Lord had done," she wrote.
Upon hearing about his death, Christians shared messages of gratitude for the highly esteemed apologist.
Evangelist Franklin Graham, whose legendary father, Billy Graham, died in 2018, shared a heartfelt message and photo on Instagram of himself with Zacharias and Sami Dagher.
"@RaviZacharias, one of the great Christian apologists of our time, has stepped into the streets of glory and into the presence of the King of kings and Lord of lords. Don't feel sorry for Ravi–his fight with cancer is over, and he has placed his crowns at the feet of the One who deserves all glory and honor," Franklin wrote, encouraging others to also give their lives to Jesus.
"For those who have put their faith in Jesus Christ, we will see him again on the other side of the river. Ravi shared the truth of God's Word with millions worldwide, 'So that at the name of Jesus every knee should bow, in heaven and on earth and under the earth, and every tongue confess that Jesus Christ is Lord, to the glory of God the Father' (Philippians 2:10-11). Ravi will be greatly missed—join me in praying for his family and loved ones in their loss," he added.
Nick Hall, an international speaker and founder of the evangelistic ministry PULSE, thanked Zacharias for the impact he made on his own life and ministry. He also shared the last encounter he had with the minister who was recently a part of Hall's global Holy Week outreach.
"Well Done," Hall wrote on Instagram. "Ravi Zacharias was a hero, mentor, and personal friend. He was a giant in the faith, giving Christians around the world confidence in their beliefs, while challenging the world to consider the exclusive claims of Jesus. Ravi opened doors for me, shared our stage at @pulse.movement and @together.generation events, and spoke into my life in ways that I will never forget. He has left an incredible legacy of young evangelists and apologists through @rzimhq and beyond."
Hall revealed that just a few weeks before Zacharias' death, the two celebrated the impact of their Holy Week collaboration. It was to be Zacharias' "last ministry event while on earth, where his message went out to possibly his largest audience ever — over 100 million people, according to Nielsen ratings," Hall said.
"Over 135,000 people respond[ed] to the Gospel," Hall said, "Ravi glowed with excitement, 'What a work of God!'"
"Ravi was faithful until the end. While we mourn his passing, and pray for sweet Margie, and their dear family, we know that all of heaven rejoices, and that an entire generation is ready to pick up the torch as a result of his legacy," added Hall, who said he will honor  Zacharias on Saturday by hosting an event titled, Make Jesus Known.
"I can't think of a better way to honor Ravi than to continue equipping a generation to follow his lead. I love you Ravi — thank you for changing my life," he concluded.
Others who paid tribute to the apologist include Christian athlete Tim Tebow who tweeted, "To my friend, my mentor and a great hero of the faith @RaviZacharias — Thank you."
View this post on Instagram
Rapper Lecrae honored Zacharias on Instagram by adding: "This morning the world lost a husband, father, leader, and friend. You are seeing wonders we can only imagine. You are in the presence of glory we can't comprehend. Your legacy on earth continues."
Click here to read more.
SOURCE: Christian Post, Jeannie Law