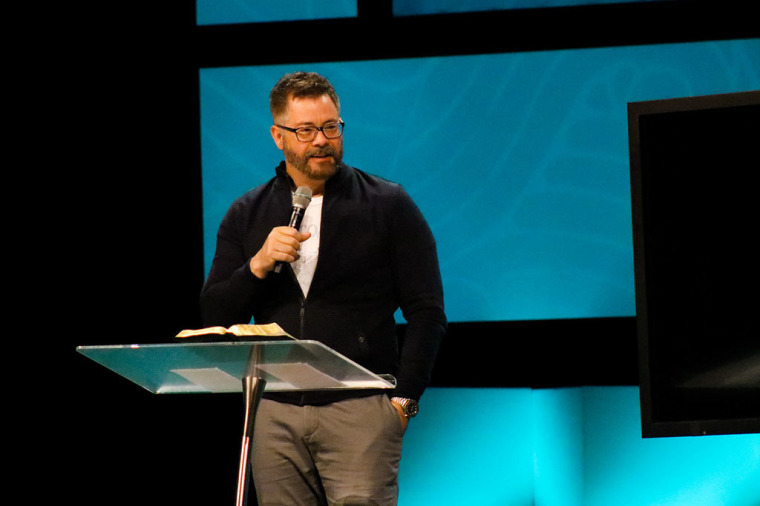 As the South Carolina-based, multi-site Seacoast Church is making plans to hold a memorial service for Pastor Darrin Patrick, who died of a "self-inflicted gunshot wound" Thursday, his wife, Amie Patrick, and the megachurch's Lead Pastor Josh Surratt shared how they're grieving the loss and how they are dealing with it.
"We are heartbroken beyond belief, terribly confused, and missing Darrin in ways that feel unbearable," Amie wrote on Instagram, adding that the congregation's "kind remembrances of him, photos, stories, and encouraging words are healing to our souls."
Patrick, who founded The Journey megachurch in Missouri and served as a teaching pastor at Seacoast, died at the age of 49 on Thursday.
"Darrin was target shooting with a friend at the time of his death. An official cause of death has not been released but it appears to be a self-inflicted gunshot wound. No foul play is suspected," Seacoast Church shared in an update Friday evening after announcing his death earlier in the day.
The police investigation into the incident is ongoing and it's unknown whether the self-inflicted gunshot wound was "intentional or unintentional," a representative from the church told The Christian Post on Saturday.
Amie said Patrick "was the rock of our family, the great love of my life, and a fiercely devoted father to our amazing children. He was a dynamic force of nature, deeply passionate and so, so fun. Mostly though, he loved God and people in ways that will challenge me for the rest of my days. And he loved me so well… I learned so much about how God loves me through the ways that my husband saw me, knew me, and cared for me. We will be a mess for a good while, but we will be ok. We grieve deeply with unwavering hope that this world is not the end and that we will see our Darrin again."
Ahead of weekend church services, Pastor Josh Surratt, one of Seacoast Church's teaching pastors who serves on the Executive Team as the Seacoast Lead Pastor, went live to share why the Saturday evening and Sunday services would not be live.
Surratt was wearing a T-shirt with the title of Patrick's book, The Dude's Guide to Manhood written on it. It was gifted to him by Patrick.
Surratt said Amie is one of the strongest women he's known.
Click here to read more.
SOURCE: Christian Post, Anugrah Kumar