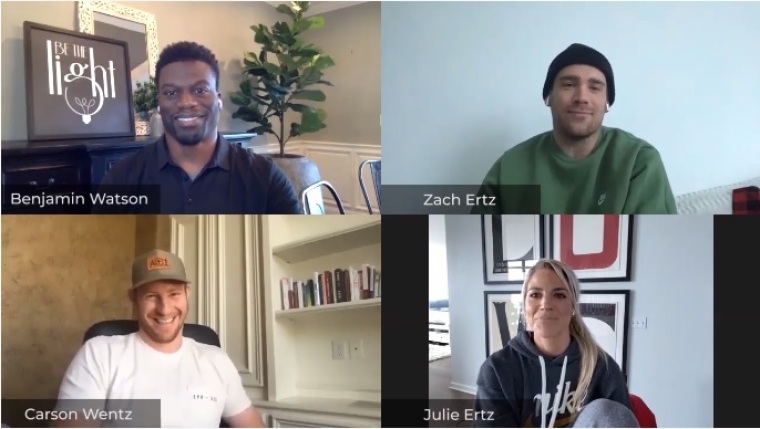 Three-time NFL pro-bowl tight end Zach Ertz of the Philadelphia Eagles opened up Wednesday about how his faith has evolved in the last three-and-a-half years since he began having a personal walk with the Lord. 
Ertz, 29, appeared as one of three guests on the fourth episode of the new weekly YouTube program "Huddle Up!" sponsored by the Fellowship of Christian Athletes and Pro Athletes Outreach. The program is hosted by longtime NFL veteran and devout Christian Benjamin Watson.
The tight ends were joined by Eagles quarterback Carson Wentz and Ertz's wife, Julie Ertz, a two-time U.S. Soccer Player of the Year with whom Ertz starred in a recent Visa commercial.
"Through the years, my evolution, per se, on the spiritual side of the Eagles locker room has grown," Zach Ertz said during the program. "I came to my faith about four years ago, maybe a little less than that — three-and-a-half years ago."
Over the last few years, the Eagles locker room has gained a reputation as being one of the most lively in the spiritual sense as players have been involved in weekly Bible studies and prayer gatherings the night before games.
Coming into the league in 2013 as a second-round draft selection by the Eagles, Ertz said he wasn't "persuaded or tempted or forced to" begin a walk with Christ.
Rather, he said he was inspired by the examples of fellow teammates like Trey Burton, Wentz, Jordan Matthews, and Chris Maragos.
"The way that they walked each and every day was the thing that ultimately opened my eyes," Ertz explained. "Trey Burton was in my tight end meeting room and I was a guy that was up and down with each and every play. Trey was just like Steady Eddie the whole time. So I wanted to emulate that."
"The more highs and lows I had during football, the more nervous and anxious I got. So finally, I just gave up, surrendered everything," Ertz continued. "A lot of it was the influence of those guys, just walking each and every day with the Lord. That has been an example that I have tried to emulate — try to invite guys by the way I live my life."
Ertz, a Stanford University graduate, said that as he's developed into a leader on the team, he's been more "deliberate in setting up the Bible studies" and setting up the team's Saturday night fellowship group."
Click here to read more.
SOURCE: Christian Post, Samuel Smith